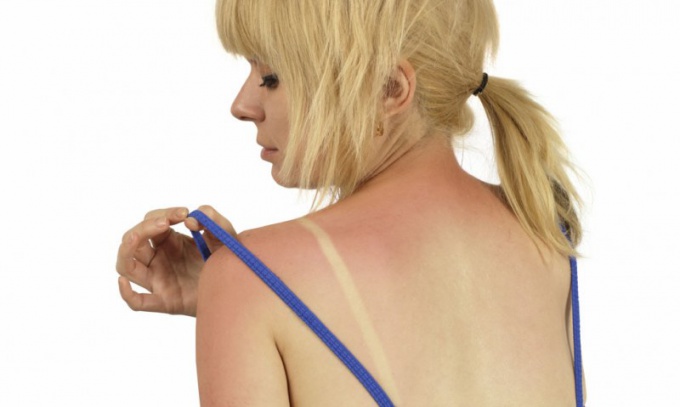 Summer season for most citizens is associated with rest by the pond, river, lake, sea or pool in the suburban area. After a long and harsh winter, which in most regions of the Russian Federation is not happy with sunny days, vacationers want to get everything at once. The results of such an extreme holiday are the saddest. Skin blushes, blisters, body temperature rises, skin burns. Why does this happen and how to avoid it?
The sun's rays are divided into infrared and ultraviolet. In turn, ultraviolet rays are divided into A and B. The rays A penetrate into the deepest layers of the epidermis. Under their influence, unprotected skin can become covered with pigment spots. In addition, the production of collagen and elastin in the skin decreases, which leads to premature wrinkles.
Rays B negatively affect the upper layer of the epidermis. The skin begins to lose its moisture intensively, melanin is intensively produced, redness appears. If you stay in the sun for a long time, the upper layer of the epidermis will begin to flake off, bubbles, которые в последующем лопнут. Температура тела может повыситься значительно, так как солнечный ожог вызывает те же симптомы, что и обычный ожог, например паром или горячей водой.
Негативных последствий можно избежать, если придерживаться известных правил. Время нахождения под солнечными лучами можно увеличивать постепенно. Загорая впервые, нужно ограничить время пребывания под прямыми солнечными лучами до 5 минут. Каждый последующий раз увеличивать время на 1-2 минуты. Через 1 week загорать можно не более 20 минут.
Специальные средства помогут сократить негативное воздействие ультрафиолетового излучения на кожу и позволят увеличить время пребывания под прямыми солнечными лучами. Людям со светлой кожей и светлыми волосами не рекомендуется загорать без защитного крема с фактором 20-30 единиц. А в первую неделю пребывания на пляже нужно использовать защитный спрей или крем с фактором 60 единиц.
Blacks and dark-haired people can use an easier remedy with the protective factor 15 units in the first week of stay on the beach and 5-10 units on subsequent days.
From 11 to 16 hours from sunburn should be abandoned altogether. This is the time when ultraviolet radiation is especially intense, so it's better to wait it out indoors or in the shade.