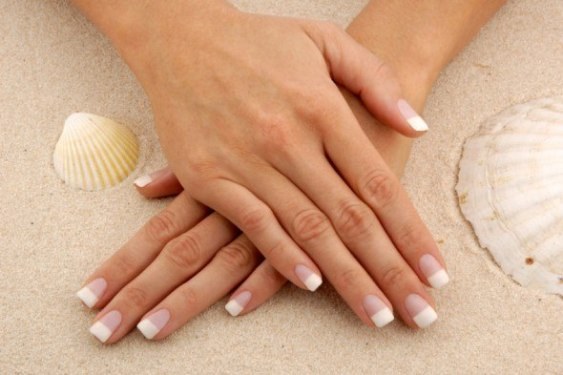 Здоровые натуральные ногти являются несомненным украшением женщины. Однако не всегда удается сохранить их естественную красоту. Дело в том, что иногда ногти желтеют и становятся непривлекательными. Отбелить их можно в домашних условиях, используя народные средства.
Лимон занимает лидирующую позицию среди натуральных средств. Он не только прекрасно отбеливает ногти, но делает их крепкими, ровными и эластичными. Если ежедневно втирать в ногтевую пластину лимонный сок, уже через неделю будет виден положительный результат. Процедура довольно простая и не требует много времени – примерно 5-10 минут. Если у вас чувствительная кожа, следует разбавлять сок кипяченой водой в пропорции 1:1 или смешивать его с растительным маслом. Для усиления лечебного эффекта можете делать ванночки для рук с настоем ромашки.
Некоторые женщины используют смесь, состоящую из равных частей глицерина и 3%-ой перекиси водорода. По желанию средство можете разбавить розовой водой. Нанесите состав ватным тампоном на ногтевую пластину и подождите 5-10 минут. После ополосните руки теплой водой и нанесите питательный крем.
Растительные масла являются замечательным средством для отбеливания nails. В качестве основы можете взять масло оливы. Смешайте его с небольшим количеством лимонного сока и 1-2 каплями эфирного масла сандала, бергамота или кедра. Перед сном втирайте полученное средство в ногти. Кроме того, достаточно эффективно борется с желтизной касторовое масло. Оно не только отбеливает ногтевую пластину, но и способствует размягчению кутикулы.
Use fresh or frozen berries. A good whitening effect is possessed by cranberries, black and red currants. Razumnite several berries with a fork and circular motions rub into the nails.