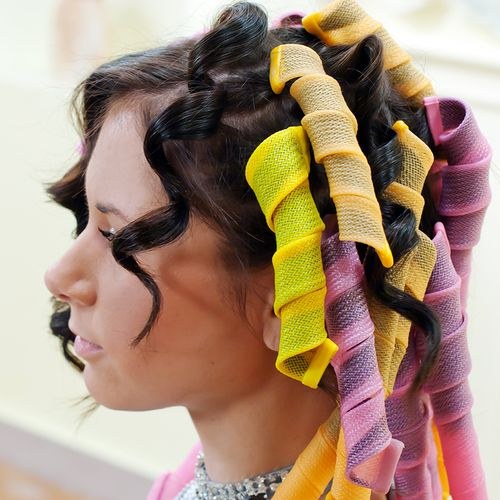 For hair is safer curlers the last generation, made of foam rubber, velor or polymer fibers. They allow you to get predictable curls, and most importantly – preserve the structure of the hair, their shine and strength. Fashion for curvy curly hair was always. Even men preferred to flaunt in wigs with beautiful curls, and this trend lasted long enough. Today, women of all nationalities and races continue to wind their straight hair on curlers, laying on their altar of beauty their strength, brilliance and health. Are there any safe curlers that do not harm the hair?
Types of curlers
Metal curlers with elastic bands, this relic of the past can still be found in the bowels cabinets some women. Scary to imagine, but they even slept! The result of such barbarism was a sick head and electrified hair with tips cut by elastic bands. Women who had the opportunity in those distant times to dry hair curled hair on metal hair curlers, were not in a better position: the metal quickly heated up, further damaging the scalp and hair.
Thermobigi are close relatives of the electric curler. Only the first is boiled in a saucepan, and the latter are equipped with an electric stand, in which they are heated. On hot curlers it is customary to wind dry hair – this way of curling is more sparing. But if you curl wet hair, then under the influence of high temperatures they will begin to intensively give away moisture, which will negatively affect their structure. Hair will become duller, dry, thin and brittle.
Hair curlers with natural bristles and hair curlers have the appearance of cylinders with a rough surface, which are held on the hair without additional fastening. Such products are designed to give a radical volume, so they are best used on short hair. Long thick hair only get tangled in these "hedgehogs." As a result, you can stay without a solid piece of hair. Wooden or plastic bobbins, allowing to curl only narrow strands, would be good, if not one "but": they, just like metal cousins, spoil the hair with elastic bands.
Gentle hair curlers
Most recently, the beauty market appeared foam rubber curlers and boomerangs, on which you can sleep, without being afraid to wake up with a sore head. They can be considered safe for the hair. "Velvet" hair curlers – plastic products covered with velor fabric, allow you to create a voluminous hair, preserving the shine and liveliness of the hair.
And the most recent squeak of fashion is the technological spiral hair curlers Magic leverage, which translates as "magic influence". These helical-shaped "stockings" made of polymer fibers will help create stunning spiral curls. Soft tapes are not felt at all on the hair, which allows you to use them at night. They are easy to use and completely safe for hair.