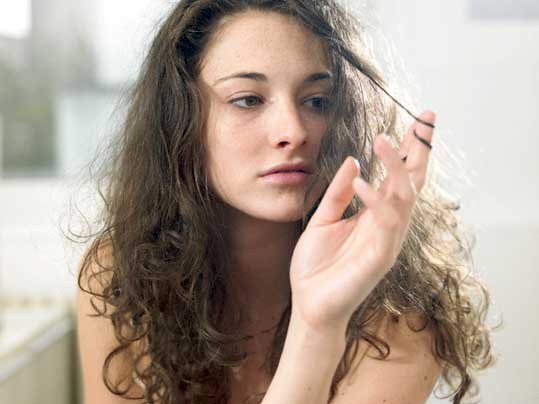 If hair magnetize, or rather say – electrified, it brings a lot of trouble. Locks are difficult to comb and style, and the haircut does not turn out neat. Rather, on the contrary – the head is full of chaos.
Смочив расческу водой, можно немного подправить прическу, но это не избавит от проблемы электризации.
Why
is the magnetization of hair? Locks, in contact with each other, produce microcurrents. With dry air, which usually happens during the cold season in heated rooms, your
hair
They lose moisture, dry up, and between them there are weak electrical discharges. Therefore, they become uncontrollable, stick to the comb and the rest of the hair. Sears and magnetization can occur when wearing synthetic headwear, as well as in a hot summer.
hair
very detrimental – they eventually fade, split and lose their attractiveness. Therefore, you need to deal with this problem. Firstly, you should properly take care of your hair. This means that you should pick up shampoo and care products that are suitable for your hair type, or special care for curls in the winter. Your
hair
need moisturizing, so use special masks. Second, give up plastic combs that only increase static electricity. Buy a wooden, and preferably – from cedar or oak. But to change the comb from natural wood, too, should be done regularly, as microcracks appear in it, in which microbes get cozy comfortably. Third, your antistatic will become your assistant. In the case of electrifying hair, they can be lavender or rose oil, which also provides extra food and shine. Fourthly, if you use a hairdryer, change it to a hairdryer with the effect of ionization. Such a system will reduce the magnetization of hair and help your locks stay healthy and beautiful. (Such hair dryers are already sold at quite affordable prices.) Fifthly,
cosmetics
cosmetics, but the body also needs water. To
hair
not electrified
, drink more liquid – at least 0,5 or 1 liter more than usual. And another tip for preserving not only hair, but health in general – get an ionizer and an air humidifier for home or office. Then many health problems that disturb you earlier will disappear, – allergy, dry skin, runny nose, frequent ARVI and others.