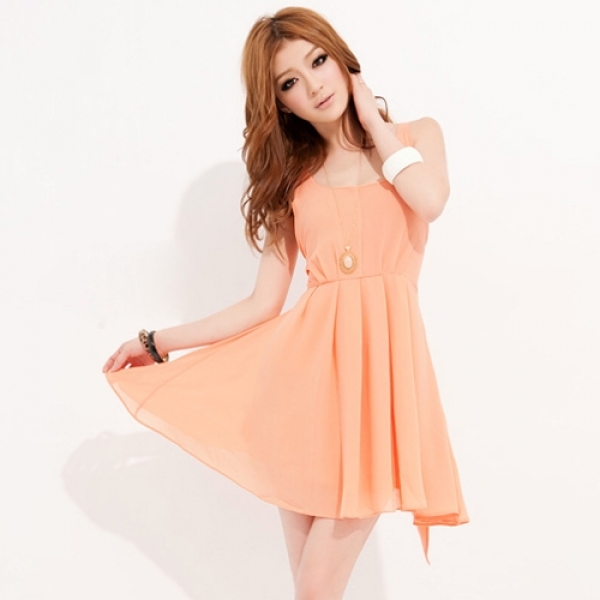 Clothing pastel tones allows you to experiment with feminine images. In this range not the last place is peach color. Under the peach dress it is easy enough to pick up shoes with accessories, but what should be the makeup?
Natural tenderness
Owners of dark hair and swarthy skin should not worry that make-up in pastel colors will make the image boring and blurry. Pale pastel make-up perfectly accentuates your contrast appearance. If you are a brunette, then you do not need to use rich colors of blush and "heavy" shadows. Simply apply a translucent powder of natural shade to the face, emphasize the cheekbones with light blush, perform eye make-up with the help of carcass and black eyeliner – that's the day make-up for the peach color dress.
And if at the end of the day there is a trip to the restaurant, then turn day makeup into evening – apply an additional layer of liner to the line of growth of the eyelashes. Make a flirty arrow if you have bright brown eyes.
Sensual passion
Beige and brown – this is the best color for an evening make-up of a lady with brown eyes. Blue-eyed and green-eyed girls can experiment with the noble gray, with its different shades – from pearl to graphite. By the way, make-up smoky eyes, too, will suit a peach dress. This make-up is already recognized as classical.
Effectively looks tandem peach and mint color. Sensuality, lightness, freshness and fervor – such associations will arise among others when looking at a lady in a peach dress with mint makeup. Makeup artists advise brunettes to use for make-up shades of violet, lavender, emerald, turquoise.
Eyes – this is the emphasis in make-up under a peach-colored dress. It is enough to apply gloss on the lips, as an evening variant – gentle pink, peach or terracotta lipstick. This make-up of lips will suit everyone – brunettes and blondes, the color of the eyes does not play a role either.