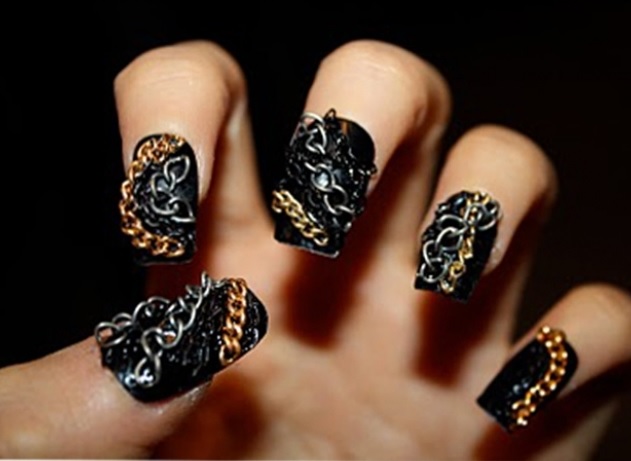 Belonging to a certain subculture is a fashionable occupation of modern youth. But to match any chosen image, you need to think through all your appearance to the smallest detail. Often, little things can spoil the impression of the created image. Manicure is such an important trifle. Now it is very popular to do a manicure in the style of rock.
Many stylists believe that rock manicure can be safely combined with other styles. Today, the simultaneous combination of several styles is an extraordinary and creative approach in creating any image. In addition, experiments in the fashion world are always appreciated.
Stylish rock manicure is suitable even for evening dress. Another fatal nail design it is possible to advise owners of short nails – it is on them that rock manicure looks much more accurate, corresponds to style, than on extended long nails.
What should be the varnish for rock manicure
Without black lacquer can not do, if you decide to do a manicure in the style of rock. Classical black color is an attribute of fatal culture. Black nails, of course, will correspond to the given image, but it is recommended to complement the manicure in every possible way. For example, silver or gold sequins, rivets, chains, small metal balls are perfect as supplements.
Figures on the nails are also allowed, only note that with black lacquer, it will best be combined with white or red. Still it is possible to take varnishes of metal colors. Modern masters with experience make a rock manicure with thorns – it looks very unusual, well suited to this culture. If the rough symbolism of this style you do not like, but at the same rock-manicure done you want, then a good option for you is a black jacket.