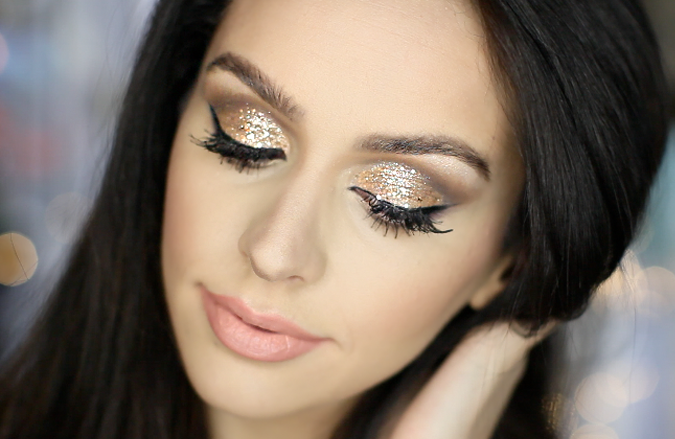 To look fashionable often does not mean to look attractive. Alas, popular styles and shades are not for everyone, so every fashionista should choose their own image that will be relevant and attractive at the same time. This applies to makeup, because the features of applying shadows and blush depend not only on the trends, but also on the appearance of the girl. Combine the subtleties of fashionable makeup 2016 and the rules of using cosmetics to look stylish and exquisite!
The times when the girls were famous for their pale faces have already passed. Now the fashion is a healthy blush and even a dark complexion of the skin. To achieve it, you need to choose the right foundation. Do not make a common mistake: when choosing a cream, apply it not on the wrist, but on the chin. The fact is that the shade of the skin on the face and hand, as a rule, is different. It is also worthwhile to first buy a probe to check that the shade of the cream and skin is in accordance with different lighting conditions.
In 2016 in fashion moderately wide eyebrows. They should not be surprised by raised threads, like Verochka's from the "Service Novel." Try to give the eyebrows the right shape, and then emphasize with a pencil. Blonde women are recommended to use a pencil for a couple of shades darker, and dark-haired – a couple of shades lighter than their natural eyebrows color. Sharp kinks and straight lines are not in vogue – be sure to make sure that the eyebrows gently bend.
Lips should also be smoothly outlined. If the line of your lips is not soft enough, correct it with a contour pencil and lipstick. It is recommended to choose a lipstick of bright red tones, which are most in harmony with your hair and shade of the skin. At the peak of fashion, ruby, burgundy, cherry shades.
Bright lipstick should not be combined with bright shadows or eyeliner. However, if you do not intend to use a saturated shade of lipstick, then you can emphasize the beauty of your eyes with eyeliner or pencil. In the fashion arrows, but not ordinary, but original. The eyes are ideal for double or expanding to the outer corner of the eye arrows.