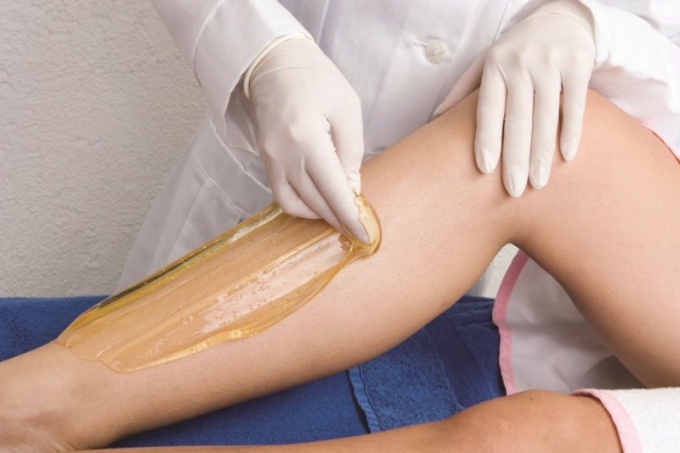 Smooth skin is one of the main criteria for woman's well-being and beauty. Shugaring, or sugar depilation, was invented to get rid of excess hair by oriental beauties. And today this procedure is offered by many beauty salons. However, Persian depilation can be done at home.
General principle
slouching
the same as for
depilation with wax
, – complete hair removal and damage to the integrity of the hair bulb. Instead of wax for Persian depilation, a special paste made of granulated sugar is used. This method is not a radical way to get rid of unwanted hair. the hair follicle recovers after a while. One of the advantages of sugar depilation is the very low probability of an allergic reaction, while beekeeping products have a high allergenicity. Because the
for shugaring
Do not use hot material, during the procedure there is no opening of the pores, through which pathogens can enter the body. And the possibility of a thermal burn is completely excluded. The low cost of a domestic procedure for Persian depilation is also a significant advantage. Contraindicated shugaring for diabetics, tk. sugar can enter the bloodstream through the pores. Postpone the procedure for another time should you have skin lesions, before or after a visit to the beach or solarium. Before depilation begins, you need to prepare shugaring – a special sugar paste. To do this, mix in an enamel saucepan 250 g of granulated sugar, 20 g of lemon juice and 20 g of water. Mix the mixture on the smallest fire and cook with constant stirring until the mass turns brownish. The mixture should be cooled, but not too much, otherwise it will harden. Sugar paste for hair removal with
bikini areas
you need to cook without lemon juice – replace it with 2 tablespoons of honey. Persian depilation is carried out as follows: take a small lump of shugaring, palm off, give it the shape of a small flat cake and press against the skin against the growth of hair. After a few seconds, the caramel mass abruptly tear off, moving in the direction of the growth of the hair. One and the same lump of shugaring can be used several times. If the sugar paste is too hard, it can be heated in a water bath. Optimum for shugaring length of hairs – 3-4 mm. A little effort and you will admire the surrounding gentle and smooth skin!