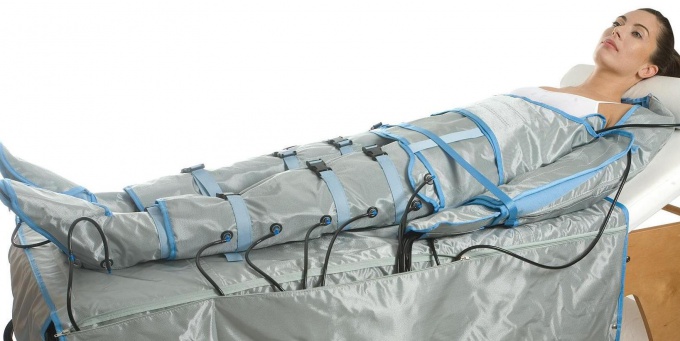 In recent years, cosmetology is moving with rapid steps forward. There are procedures that are quickly overlapped by new ones, but there are those that are so effective and successful that the demand for them is increasing every month. Pressotherapy is the second category.
What is pressotherapy?
Pressotherapy is a technique aimed at reducing and removing edema, getting rid of cellulite and improving lymphatic drainage. The procedure is that the patient dresses in a special suit, lies on the couch and relaxes. At this time, the computer under the strict guidance of the cosmetologist gives air to the suit.
It is thanks to the air that the pressure inside the suit changes. The computer rhythmically alternates the force of the air movement. Because of this, there is a sense of wave on the legs from the heels to the buttocks. Such manipulations affect the lymph nodes, muscles, vessels and subcutaneous fat. The blood supply in the patient begins to improve, and the metabolism increases and fat begins to burn.
What is the effect of pressotherapy?
Pressotherapy is useful to people who have recently undergone plastic surgery on the abdomen, buttocks or legs. It is irreplaceable for those who wish to get rid of excess volumes, improve the relief and tone of the skin.
How much will the effect of pressotherapy?
Pressotherapy should be carried out in a complex manner. After one procedure, no effect except lightness in the legs should be expected. The first visible effects can be expected only through 7 procedures. In some cases, the first results become visible only through the 10 procedures performed daily.
To speed up the effect, you can combine pressotherapy with other procedures. Some clinics use new generation devices. These include the apparatus "Cerry". This system 3 in 1, which combined pressotherapy with miostimulation and infrared sauna.
Indications and contraindications to the procedure pressotherapy
Pressotherapy at first glance, although it seems quite simple procedure, but it should be approached with caution. There is a whole list of testimonies and, most importantly, contraindications. Pressotherapy is an excellent solution for problems such as:
* Overexertion and swelling of the legs. This includes swelling after surgery or trauma.
Cellulite and obesity.
* Problems with the gastrointestinal tract, gout, adhesions in the abdominal cavity, constipation.
Diabetic angiopathy.
Chronic venous insufficiency.
* Overexertion in muscles, chronic fatigue syndrome, insomnia and stress.
Contraindications:
* The integrity of the skin on the treated area or the presence of unhealed fractures on the body is impaired.
* Menstruation.
Pregnancy or breastfeeding.
* Presence or propensity to form blood clots in the vessels.
* Cardiovascular failure.
* Chronic diseases in the abdomen.
* Violation of the kidneys.
Oncological and benign neoplasms.
* Diabetes.
* Tuberculosis.