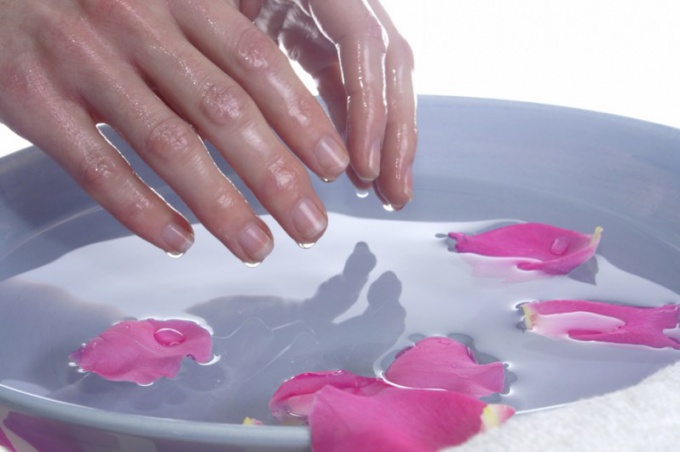 The gentle skin of the hands needs extra care. Daily use of various detergents or cleaning products, as well as the impact of the environment, can significantly worsen its condition and cause a lot of trouble. And not always the use of hand cream helps to eliminate problems.
Hot manicure is a very pleasant, and most importantly useful procedure that allows you to repeatedly strengthen the action of the cream. Very often this method is confused with SPA manicure, which is not entirely correct. The effect and benefit of hot manicure is much greater.
A hot manicure is performed using a large amount of oil or cream, heated to a certain temperature. This procedure can be compared with paraffin therapy. The effect of recovery and moisturizing will be just as significant. The difference between these methods is that hot cream or oil baths are not contraindicated for the skin on which there are cracks, pimples or micro-traumas. In such cases, on the contrary, they will have a useful effect.
The method is also good because it can be done both by a professional master and at home.
In the professional salon, the liquids are heated in an electric bath designed for hot manicure. Then in the cream or oil, heated to a temperature of 50-55 degrees, hands are dropped for a few seconds. This temperature promotes the activation of life processes in the skin cells. Strengthening blood circulation and opening the skin cells, the hot cream nourishes and moisturizes much more efficiently than usual, and nutrients penetrate much deeper.
To carry out the procedure of hot manicure is quite possible and in domestic conditions. To do this, the oil or cream should be heated in a water bath. Hands should be kept in a heated liquid about 20-25 minutes. It should be noted that the cream removed from the water bath gradually cools down, which somewhat reduces its effect. Special baths used in professional salons are good enough to maintain the preset temperature throughout the procedure.
Hot baths help to keep the skin of hands youth, giving it softness and elasticity. The breakage and stratification of the nails after such procedures is significantly reduced, the cuticle is improved. Hot manicure also has a relaxing effect, relieves tension and has a beneficial effect on joints.