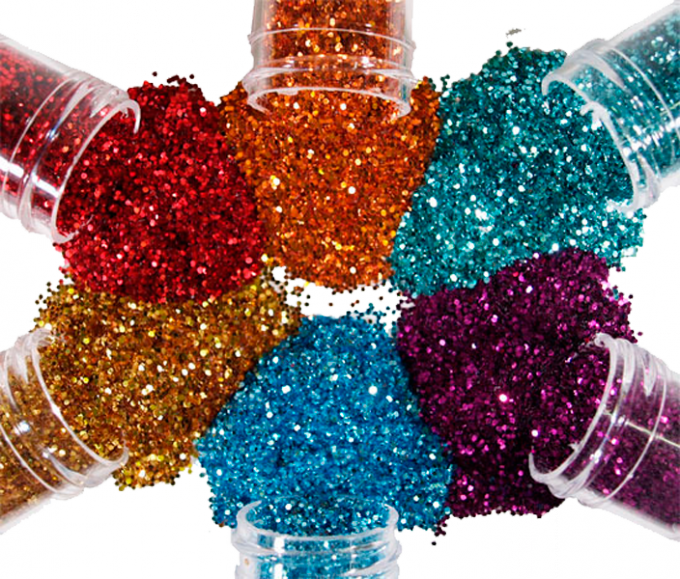 The word Glitter can be freely translated from English into Russian as "brilliance". In modern cosmetology, glitter is small crystals that are designed to decorate the eye lids.
Глиттер может быть изготовлен из таких материалов:
Polyester.
Glass.
Aluminum.
Glitter can be manufactured in a variety of geometric designs, the most common of which are:
A circle.
Snowflake.
Confetti.
Strips.
For greater ease of use glitter is sold in compact, reasonably practical tubes, and the kit includes a wadded disk, adapted for convenient application of glitter to the surface of the eyelids. A key feature and at the same time the only drawback of such cosmetics as glitter is that it is not suitable for use on weekdays. For trips to the store or work in the office, such cosmetics is too bright and provocative, but for holiday events, a photo session or a thematic party, the glitter is ideal.
With a huge number of significant benefits glitter has only one significant drawback: many fashionistas have an allergic reaction to the substances that make up these shadows. The point here is not only and not so much in the substances that are part of the cosmetics in question, how many in its novelty and the absence of 100% hippoallergenic composition, as well as in the increased sensitivity of the eyelids and the adjacent areas of the face. Leading cosmetologists are working hard to create a hypoallergenic composition of such cosmetics, since its popularity is very large.
The process of applying such shadows, in spite of their specificity, does not differ in principle from the application of ordinary shadows. The only difference is that the glitter is not applied with a brush, but with a sponge. In order for the cosmetics in question to become truly a decoration of the female image, and not to spoil the general impression, it must be applied with reasonable care. It is well known that the excessive amount of almost any makeup does not adorn the girl, but has the opposite effect and glitter is no exception to this wise rule. At the time of the first use of such shadows, it is necessary to apply them to the sponge quite a bit and do so until a clear understanding of the optimal dosage is formed.