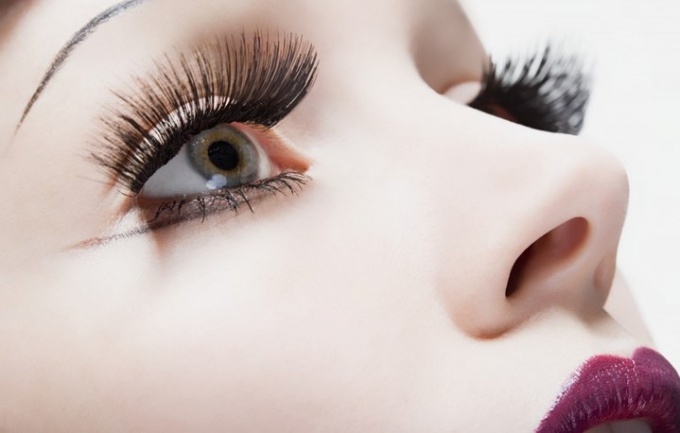 Luxurious curled eyelashes nature has awarded not many, and in the pursuit of perfection women curl their eyelashes in many ways: using mascara, forceps, thermal and chemical processing. But are these procedures safe?
Mascara is the most common method of curling eyelashes. The cosmetic industry produces a special mascara with a twisting effect. It consists of resins and keratin, which, drying up, slightly pulls down the eyelashes. Due to what they bend. Unfortunately, even quality mascara (for example, with vitamin supplements) is not very useful. It often discolours and weakens the eyelashes, and with prolonged use on the brush a large number of microbes accumulate. Therefore, it is necessary to monitor the expiration date of the carcass, change it in time, and remove the eyelashes only with the help of special products: cream or cosmetic milk. The effectiveness of curling eyelashes with forceps is largely dependent on their quality. This method is considered sparing. Although eyelashes are traumatized with daily curling. Over time, they become thinner and brittle. The chemical curling of eyelashes is very popular now. The procedure lasts only minutes 40. During this time, eyelashes are wound on the roller and processed twice by special items (to create a curl and fixation). Chemical perm is kept up to 3-x months. But she also has obvious shortcomings. Eyelashes after a chemical wave are clarified, and they have to be additionally stained. There is a risk of chemicals falling into the eyes, so you can not do the perm on your own, in
Home conditions
, but you should contact a specialist. In addition, after such a procedure, it is necessary to conduct a course on the restoration of eyelashes. After all, they were subjected to aggressive chemical attack. Experts recommend that after chemical curling eyelashes impose on them oil masks (sea-buckthorn and castor). Vaseline and vitamin A in drops will also be suitable. They help to strengthen the roots of the eyelashes and prevent their loss.