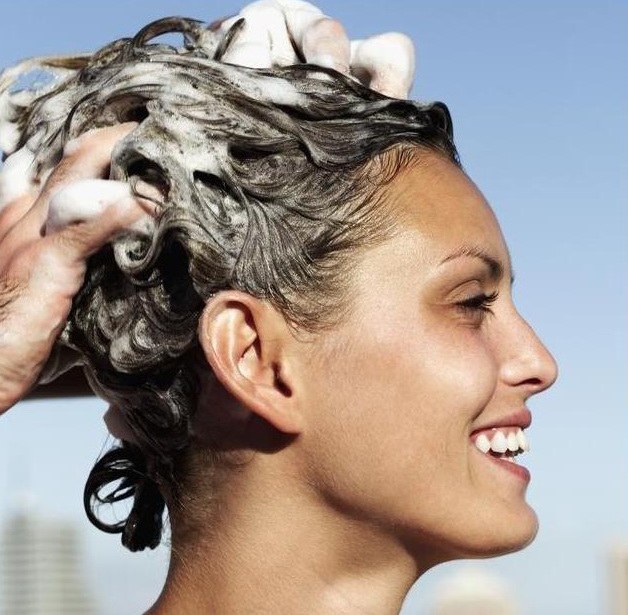 Co-voshing is a trendy way of washing hair with conditioner or balm without the use of shampoo. It suits first of all for owners of dry, weak and damaged hair.
The difference between co-voshinga and washing with shampoo
Initially, co-voshinom used black women, whose hair curly, but it's hard and dry. A gentle method of cleaning the hair minimizes tarnishing and washing out the color and provides the curls with the necessary moisturizing.
Almost all cleaning shampoos contain sulphates – chemical substances, under the influence of which the cuticle of hair opens and from there dirt, grease, remains of paint and packing materials are washed away. Together with this, the head of hair is deprived of moisture and nutrients. Therefore very soon the hair grow dull, easily electrified, become brittle and unruly. Especial danger sulfate shampoos represent for hair after clarification and a chemical wave.
When using only balsam, it is not chemical, but physical cleansing of hair and scalp. Hair at the same time get rid of dirt and fat, without losing moisture. After such washing they get shine, softness, obedience and smoothness. Such hair is easily combed and lends itself to styling.
How to wash hair without shampoo?
First, soak the hair well. Then squeeze a large amount of air conditioning on the hand and apply it along the entire length. Massage your scalp with your fingers, and then comb your hair. Thus, the air conditioner will be deeply absorbed into the hair. Rinse the detergent thoroughly and "until the squeak" so that the hair does not leave a greasy shine. If necessary, repeat the procedure. During the friction, the air conditioner can foam a little. The whole process of co-voshinaga takes 5-7 minutes. After that, the hair should be washed naturally and laid. In a few weeks you will notice a difference in the smoothness and softness of the hair.
How often should I do the procedure?
Conduct the procedure of co-voshinha as many times a week as you wash your head with shampoo. If it seems to you that the hair is oversaturated with air conditioning and from this become heavy, wash them with shampoo. You can stick to this program: twice co-voshing, once shampoo. Or wash your hair with shampoo once a month, and the rest of the time, use co-voshing. Please note that the air conditioner can not cope with very dirty hair.
When choosing a balm for co-waxing, pay attention to those products that do not contain silicones. Therefore, always check the composition. Silicones can be determined by ending "cone" or "ane" (for example, cyclopentasiloxane). Conditioners with silicones wash the hair in a worse way and quickly salve them. It is not necessary to use the procedure of co-waxing for greasy hair from nature. In other cases, this method of washing is an alternative to salon care for damaged hair.