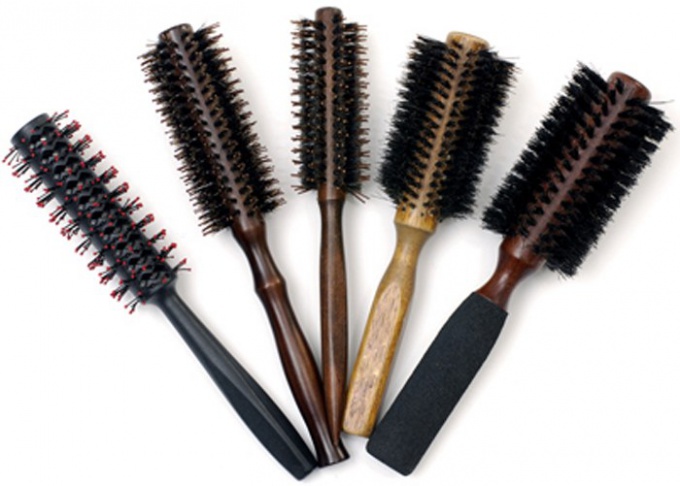 Необыкновенное слово «брашинг» в основном используется модницами, которые тщательно следят в индустрии красоты за новинками, а также парикмахерами. Брашинг имеет два главных значения.
Брашингом называют специальную расческу для волос, которая имеет круглую форму и оснащена щетиной особой структуры. Второе значение этого слова – это особый способ укладки для придания шевелюре объема и пышности.
Hair brush
Щетка с круглым основанием и металлическими и натуральными щетинами необходима для укладки прически. Диаметр брашинга полностью зависит от густоты, структуры и длины волос. Чтобы создать объем, локонам требуется брашинг до восьми сантиметров в диаметре, то есть с широким основанием.
For curls and waves, you need a brush with short and metallic bristles, which are well wound on the hair, give the hair the temperature of the hair dryer. The amount of curls depends on the diameter of the brushing, the bigger it is, so the curls will be larger.
For straightening curly and unruly hair brashing with natural bristles (usually brushes made of pig or horse bristles) that perfectly untangle and comb the curls will do. The best base of a brush for straightening strands with the use of a hair dryer is a ceramic, it allows the flow of air to be evenly distributed throughout the length of the hair. The ceramic nozzle copes well with the unruly hair.
Brashingi with combined or nylon bristles are simply ideal for thin and soft hair, which require volume. Remember one more important point: the longer your curls, the bulkier you should choose a brush. After all, if you are the owner of a short haircut, you will not be able to wind strands on a big brashing.
Ceramic brashingi appeared on the market, which change their color under the influence of temperature.
Brashingi distinguish:
– по материалу основания (металлические, пластмассовые, керамические и деревянные);
– the rigidity of the teeth and the frequency of their location;
– по типу щетины (artificial, natural);
– usual or thermal;
– in diameter.
Ceramic brashing best protects curls from overheating, gives them a natural sheen, significantly wins compared to plastic or metal counterparts.
Way of laying
Brashing for hair is a way of hair styling, the purpose of which is to give volume at the roots with a hair dryer and comb. This method is perfect for women of fine sex with thin and weakened hair. Owners of curly hair by nature will be able to draw curls with the help of brashing.