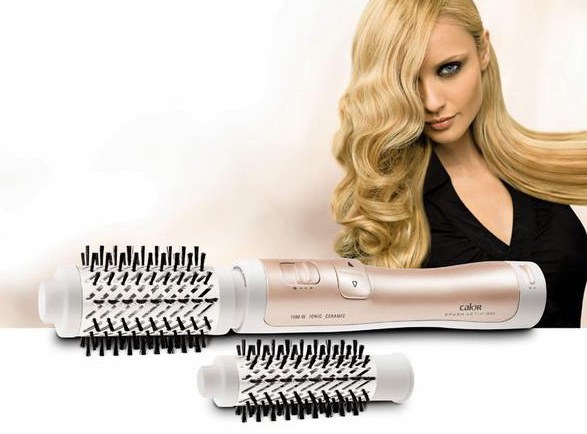 A styler is one of the popular devices for creating hairstyles. With the help of an ionizer, he can even heal the hair. The functionality of the styler is very wide. Thanks to him, you can endlessly experiment with curls, curls and straight strands.
Types of stylers
By the number of functions, the stylers are divided into universal and highly specialized. The complete set of universal styler includes many attachments: for curling hair, for giving volume, for lifting the hair at the roots and so on. With this styler it is easy to create traditional curls, playful curls and even perfectly smooth hair. A universal styler treats the hair with steam. This model is suitable for various experiments with hair. After all, this "ployka", brashing and "ironing" in one.
A specialized styler is only intended for one operation: it does not have removable attachments. Such a device acts on the hair with its own hot surface. When you know your style of packing, do not overpay for additional functions.
The basis of both a universal and a specialized styler is a handle with a heating element inside. Various attachments are attached to the handle. Any styler necessarily has a temperature controller: it can be mechanical or digital. The device works to create hairstyles from electricity.
The stylers are very convenient when traveling, because with their help you can make styling in a hotel, plane or train. Especially popular are self-contained battery operated stylers.
How to choose a hair styler?
After you have decided what kind of styler you need, pay attention to the power of the device. The styler up to 0,1 kW is suitable for ordinary home laying: it creates well curls and straightens hair. Power up to 1,5 kW is designed for professional laying. Using a styler with high power, you can create a hairstyle for any type of hair.
Currently, more modern models of stylers have electronic control. With it, the temperature can be adjusted to within one degree. This allows you to perform gentle laying. Models with mechanical control provide a simple "on-off" button and a temperature regulator in the form of an engine. Models with mechanical control are considered obsolete, so they are much cheaper.
Of course, it is necessary to understand the various surfaces of the stylers. So, ceramic coating very well distributes heat and practically does not injure hair. Tourmaline and keratin impregnation contributes to the smoothness and shine of the hair. But the metal surface is a danger to the curls. It is attractive only for low cost and high heating rate.
The width of the plates depends on the length of the hair. So, for long hair, the allowable width is more than 3 cm. And for short hair, plates with a width of up to 2,5 cm are suitable.
And finally, buy a styler in large stores of household appliances. Sellers are required to provide you with a check, technical passport and free warranty service for a certain period of time.