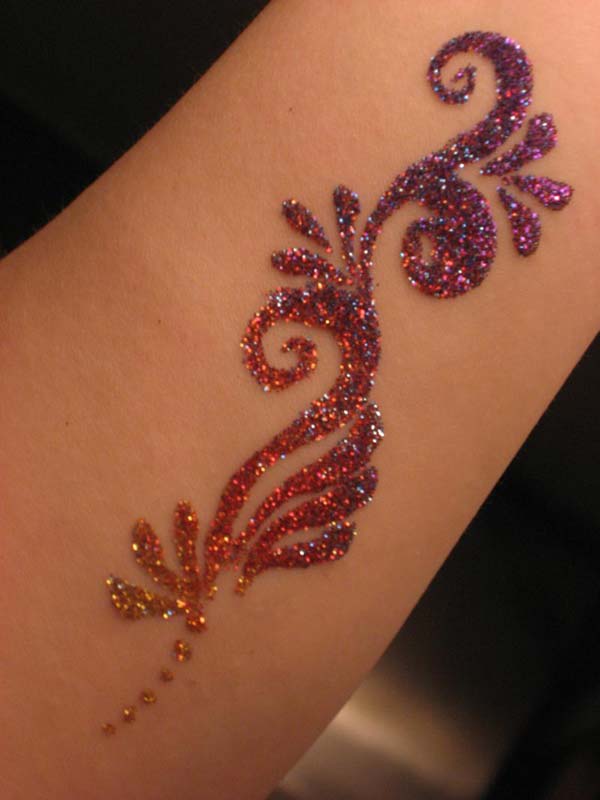 Glitter (glitter) -tatu – this is one of the directions of body art. It is an application of sparkling multicolored sparkles. The size, shape and color of the drawing depends only on your imagination.
The glitter-tattoo differs from other directions of body art with its brightness and dazzling radiance, which help to create a stylish and unique image. If you, going to a party, a club or a beach, decorate your body with a similar work of art, everyone's attention and enthusiastic views will be guaranteed to you!
The technique of applying a shine-tattoo is quite simple. After processing the selected area of ??the body with alcohol, a special hypoallergenic adhesive for body art is applied to the skin. The desired shape can be given to the drawing either by hand or using a stencil. The next stage is the process of applying glitters to the glue. Depending on the complexity of the pattern may be monochrome, but can also be a multi-color composition with transitions from one color to another. After applying the sequins, the application is left for a few minutes, waiting for the glue to dry out, and then remove the excess glitter with a brush-marking. Glitter-tattoo is ready!
Depending on the care, the sparkling pattern will last on the body from 3 to 10 days. With him you can swim and take a shower, but, if possible, you should try to protect it from various kinds of mechanical influences. To remove the gloss-tattoo, if desired, can be very easy – during showering, simply rub the pattern intensively with a washcloth or cotton pad soaked in a soft liquid to remove the varnish.
Care instructions
1. During washing, try not to rub the area of ??the drawing with a sponge or washcloth, and avoid getting alcohol, creams and oils on it.
2. It is undesirable to visit the sauna, sauna, solarium.
3. After water procedures, the area of ??the pattern should be gently soaked with a towel. The glue is water resistant, but is afraid of rough mechanical action.
This option of temporary tattoo is ideal for special occasions or short-term activities, when you need to produce a stunning effect. If you wish, the shine-tattoo can be changed at least every day, without causing any harm to your skin. A bright iridescent drawing is an excellent option for fans of frequent changes of images.