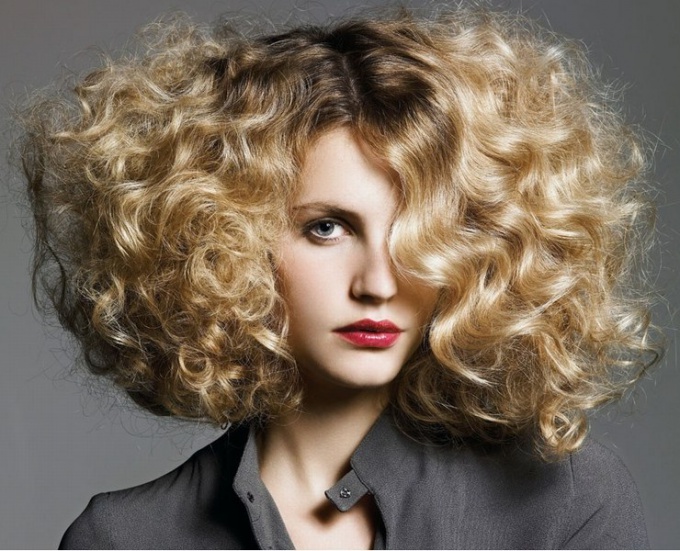 Perm permits hair for a long time to save any form. The essence of it is always the same: the hair is impregnated with a chemical compound and wound on hair curlers or papillotki. Handling the retainer allows you to fix the hair in a new position. Depending on the means used, several types of perm are distinguished.
Still popular and does not give up one of the oldest methods of curling hair – acid. This is one of the most persistent curls, which hangs on the hair for more than 6 months. The chemicals used for it penetrate the inside of the hair and create a rather tight curl. Acid perm is not suitable for owners of soft and delicate hair, as they stretch at the root and do not keep the shape. Hair after the procedure often becomes brittle and dry.
Alkaline curl lasts only 3 months, but it has a softer effect on the hair. Curls look natural, quite elastic. Alkaline drug penetrates the inside of the hair and at the same time reveals its outer flakes (unlike the acid flake). For hard straight hair, this procedure can be almost useless – after a month the hair straightens.
Acid perm on the basis of thioglycolic acid can be done even on dyed hair, since it acts rather gently. But this "chemistry" keeps only a month and a half.
One of the modern methods of curling, combining the first two types – neutral. The composition of the remedy includes allontoin, due to which the hair does not dry. The acidic pH of the drug is balanced, so it is suitable for all types of hair, it acts gently and gently on them. Nevertheless, the hairdo turns out to be rather stable.
To minimize the negative impact of a chemical wave, use an amino acid perm. In its composition, besides amino acids, there are proteins that heal and nourish the hair, so the curls are gentle, soft and natural. However, such a wave is not suitable for hard, long and heavy hair.
One of the most sparing, but effective curls is the "silk wave." The composition of the preparations includes silk proteins, they even improve the structure of the hair and take care of it. Even dyed and discolored hair becomes more dense and lively. Such a wave will last two to three months.
Еще один эффективный лечащий способ – биозавивка. В составе препарата аммиак, перекись водорода, тиогликолевая кислота заменены более щадящими биоэлементы, сходными с молекулами волос. К биозавивке можно отнести такие популярные виды, как « Итальянская» на основе экстракта бамбука, «Кудри ангела», с использованием ботанического комплекса.