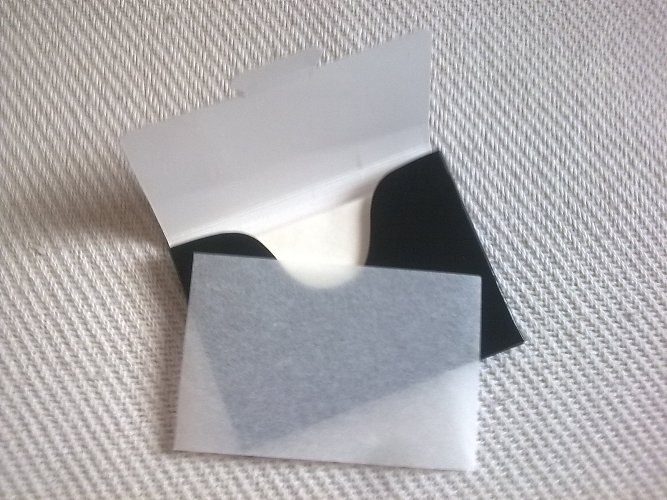 Matirujushchie napkins will help to remove a surplus of dermal fat, not spoiling a make up. This accessory should always be in your purse – just a couple of thin leaves are enough to quickly bring yourself to order. You can choose a napkin with antibacterial additives, a pleasant fragrance or without it.
Matirujushchie napkins: what they happen
Napkins for matting the skin effectively remove excess sebum, do not cause irritation and inflammation. With the help of these leaves you can quickly brush up the makeup or soften it. For example, a napkin will help remove excess tonal cream or powder, without smearing them all over the face. Help wipes and those who do not use makeup. Some leaves not only matiruyut face, but also slightly tighten the pores.
On sale there are different types of matting napkins. They can be made from a non-woven porous material or special very thin paper resembling a soft paper. Some napkins contain antibacterial components: an extract of green tea or tea tree, activated charcoal. Such drugs are good for the treatment of very oily skin, prone to inflammation.
Owners of dry skin can use napkins with moisturizers: an extract of aloe, cucumber, chamomile. These napkins are very soft. Do not buy products containing alcohol – they are good matiruyut skin, but greatly overdry it, and with constant use can cause peeling.
In the heat, napkins with a cooling effect are especially good. They have a delicate aroma of menthol and refresh your heated skin. Such napkins can handle not only the face, but also the neck.
Pay attention to the packaging. Typically, the napkins are packed into cardboard boxes with a slot for convenient extraction. But there are also more elegant options – for example, rubberized cases and even folding pencil cases with a mirror. Very practical cases with spare blocks – such options are found in luxury brands.
Methods of Use
Napkins can be used several times a day. Take one sheet and attach it to your face without rubbing your skin. Start with the forehead and nose, then mate the area of ??the cheeks and chin. Change the wipes to improve their absorbent properties. To process the face will go from 2 to 6 leaves.
The sweating face needs to be treated with particular care. First, remove excess moisture with a paper handkerchief, and then pat it with a matting cloth. If the skin glitters only in the T-zone, there is no need to soak the entire face. Treat only the area of ??the nose, forehead and chin. After matting, you can use a compact powder or apply another layer of blush.
If you bought two-sided wipes, first remove excess fat with a matting side, and then attach to the face of the back of the napkin, covered with a thin layer of powder. After such treatment the face will look fresh and velvety.