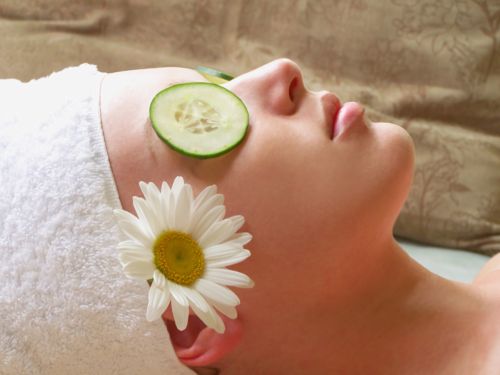 Dark circles under the eyes are not the best decoration for a woman. They appear as a result of systematic lack of sleep and fatigue. To quickly erase the marks of fatigue from the face, you need to have several proven recipes at hand. First of all, you need to correct the regime of the day and allocate 8 hours for sleep. Every day you need to make walks in the open air, it's good if you can at least occasionally choose in the forest. This will not only contribute to strengthening immunity, but also will raise the mood and enrich the cells with oxygen. Refuse bad habits: stop smoking and do not abuse alcohol.
Home Masks
Masks from cucumber refresh and tone the skin, perfectly cope with dark circles under the eyes. In addition, this vegetable is famous for its bleaching and rejuvenating properties. Fresh cucumber slice thin slices or grate on a large grater, attach to the eyelids and hold 10 minutes. At the end of the procedure, you will feel refreshed and be surprised by the results.
With the emerged dark circles will help to cope with potatoes. Peel the average tuber from the peel, grate on a fine grater. Mix 2 tbsp. received mass with 1 tsp. any vegetable oil, apply on eyelids and keep 20 minutes. The mask should be removed with cotton swabs, soaked in a strong tea infusion, diluted with mineral water in the proportion of 1: 1.
To prepare the next miracle cure, take a few twigs of parsley. Blender them to a mellow consistency, mix with 2 tsp. soft butter. The resulting cream put on the skin of the eyelids before going to sleep, tapping lightly with the fingertips.