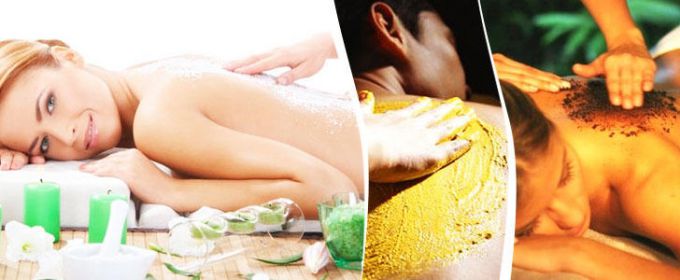 The peeling procedure is performed to exfoliate dead skin cells. Before the event, you need to carefully prepare the skin. You should completely get rid of makeup. Peeling refers to massage, because after it increases blood flow. It helps to get rid of cellulite and excess fats on the body.
Peeling penetrates deep into the skin, this is different from scrubs, which only clean the top layer of the skin.
For such a procedure, simple table salt or sea salt is suitable.
Lie down in the bath and steam your body well. When you feel that your skin is warmed up enough, apply salt in a circular motion. If possible, buy a special mitten, so it will be easier to peel. Hard to rub it is not necessary, but it should be felt. The skin needs to become slightly reddish, but not to have pain.
Pay special attention to those areas on the body, which in your opinion are not entirely perfect. The duration of the procedure should not exceed 10 minutes, otherwise due to fatigue of the hands all pleasure will be lost.
Do not forget to enjoy the spa treatment!
Did not have time to buy ready-made peeling in the store? Do it yourself! Take sea salt, add honey or olive oil and gently massage the skin for five minutes – a great alternative to anti-cellulite massage.
A spoonful of shallow salt and ground "Hercules" must be mixed, add a little oil (preferably olive), apply to a loofah and rub for 5 minutes. The skin will become like silk. Salt and oats may be replaced with ground coffee. This procedure will reward the skin with a light tan.
Decoction of corn porridge is more useful to use on the body. But Hercules is perfect for use on the face. Mass is rubbed not with strong massaging movements and washed off with warm water. If there is no time or desire to prepare a cleanser, then you can simply diligently rub the body with a mitten.
In sour cream, salt the salt, then the skin will become softer, thanks to the beneficial milk components. The use of seaweed in this procedure will not only cleanse, but will also make the skin smoother and will refresh it nicely. Algae will clean out all pores and give back their useful substances that are in them.
After peeling, moisten the skin with lotion. Masks will have a greater effect on the skin, if done after the procedure.