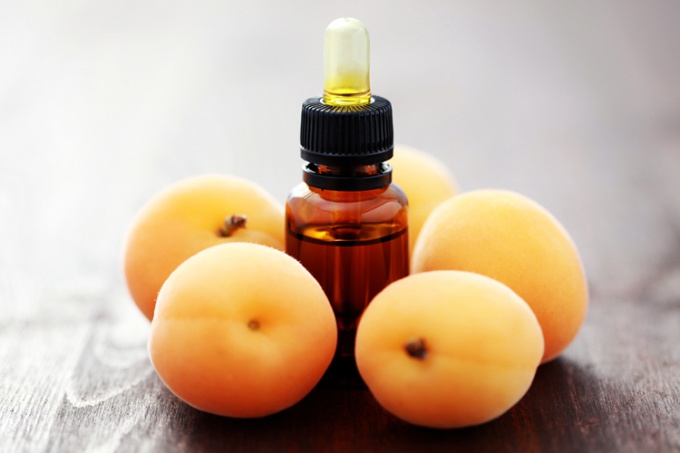 Apricot oil is a natural product, it is produced by cold pressing. People have long appreciated the benefits of the bones of these delicious fruits. And thanks to the natural composition of this oil, it is often used for cosmetic purposes.
Apricot oil contains mineral substances (for example, magnesium and potassium), as well as vitamins A, B, C, F, E. There are also organic acids (linoleic, palmate, oleic, etc.) present in it. It's no wonder that this product is so useful for hair!
So, substances from apricot oil have a beneficial effect on hair, eyelashes, eyebrows. Still this oil possesses medicinal properties. It can have anti-inflammatory effect, moisturizing, regenerating, nourishing and antiseptic.
If you constantly use apricot oil, then you will get rid of dandruff, brittle and dry. Hairstyle will get a healthy sheen, which is so lacking for many ladies! In addition, the hair will become elastic and silky. Oil of ossicles does not cause allergies, the absorbency is excellent, the strands remain light, and the greasy gloss is completely absent.
Consider the popular recipes for masks with the addition of apricot kernel oil. Although you can and just comb the hair with a wooden comb, lightly moisturizing it with a few drops of this remedy. Or add a couple of drops of oil to your shampoo. But still, if you have free time, sometimes do hair masks.
Nourishing mask. Mix a spoonful of butter with a spoon of honey and egg yolk. Spread the mask along the entire length of the braid, wash off after twenty minutes. Course: 5 procedures. Thanks to this simple mask, the hair becomes softer, and lively shine is a good bonus.
Damaged hair. Here you will benefit from a mixture of apricot oil and aloe juice. Take these mixtures in equal amounts and mix thoroughly, add the beaten raw yolk. Keep on your hair mask for no more than half an hour. The mask is washed off with warm water, it is not necessary to use shampoo.
Sensitive scalp. Here it is necessary to take a tablespoon of butter, add to it the essential oil of chamomile and patchouli (four drops each). Strike the mixture in the head, rinse, too, after half an hour with the use of baby shampoo.