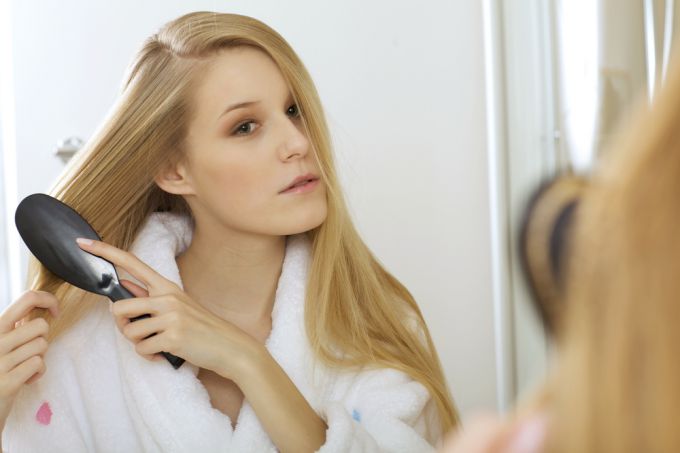 Облик женщины зависит не только от макияжа. Один из основных акцентов приходится на прическу. Представительницы прекрасного пола в большинстве своем знают о недостатках и достоинствах своих волос. Некоторые ситуации требуют вмешательства профессионалов, но есть и такие прически, которые можно соорудить и в домашних условиях.
Для создания прически потребуется не только расческа. Вашими незаменимыми помощниками при укладке волос станут фен, стайлер, шпильки, невидимки, резинки, средства для укладки.
Creating an image with a comb and a hair dryer is an art, but it is not difficult, it can and should be learned. Women with short hair use a hair dryer almost every day, so they are perfectly aware of the advantages of this method. But for long-haired ladies hair dryer will be an indispensable assistant.
Locks are an invariable attribute of a romantic image. Someone has beautiful wavy hair that does not require extra effort, and some have to spend time and energy creating beautiful curls. Using a styler will facilitate this task.
To create a romantic image, it is not necessary to curl all the strands, just twist the ends of the hair.
Шпильки, невидимки и резинки для волос незаменимы при создании сложной прически, когда нужно закрепить пряди в определенном положении, собрать в хвост или заплести в косу.
Romantic image
Beforehand, wash the head thoroughly, dry the hair with a towel and finish the styling with a hair dryer, giving the hair volume from the roots.
Comb your hair for parting. The hair of the face is twisted into wide strands, which fasten on the back of the head with elastic bands. One should be left untouched.
Hair that are not included in the tourniquets, curl with large curls and lay a beautiful wave on the entire head, fixing, where necessary, hairpin or invisibility. Stir the rest of the string with a styler and leave it free to fall on your face. Attach the whole hairstyle with hairspray.
Elegant image
Babette with pigtail – one of the most elegant, but at the same time solemn hairstyles. First of all, carefully comb your hair. Divide the hair on the parting, separating the two large strands from the temples. So that they do not interfere, zakosite their clamps.
На макушке волосы также разделите на две части и крепко зафиксируйте их невидимками. Верхнюю часть волос откиньте, чтобы она не мешала поработать с нижней, которую необходимо пышно начесать. Начесанные волосы сверните в валик и закрепите шпильками.
Верхнюю секцию волос также можно слегка начесать, затем их аккуратно оберните этими волосами нижний валик. Зафиксируйте пряди невидимками. У вас получилась бабетта, которую нужно зафиксировать лаком для волос.
From the left twisted ropes you should weave two pigtails, which later need to be wrapped around the base of the babetta and fixed with invisible ones.
Unusual image
The braids are a universal hairstyle, but if you want something new, and there is no time for plaiting a complex braid, you can make a very unusual pigtail.
Carefully comb the hair and collect them on one side, the one where your braid will be located. Approximately at the shoulder level, fix the hair with a silicone rubber band. Spread the hair over the elastic band and thread the remaining tail into the hole. You got a curl.
Just below the curl again, fasten the hair with an elastic band and do the same operation.
This hairstyle can be diversified by making a couple of curls, and then braiding an ordinary braid of three strands.
As a result, your entire braid will consist of such beautiful and neat curls, the number of which will depend only on the length of your hair.