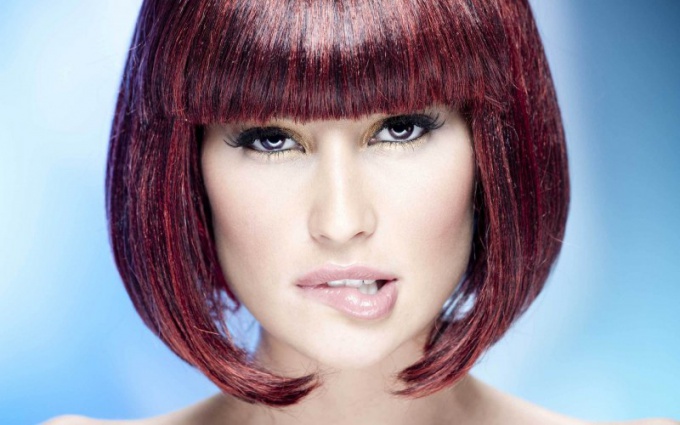 Women who are unlucky by nature with the volume of hair, try to achieve a visual effect in various ways. With the help of a variety of cosmetics even liquid and thin hair can look beautiful.
Naches is the fastest and most tried-and-tested way of giving a hair style. He was very fashionable in the eighties. Currently, stylists also resort to this tool. Simple laying is created with the help of a strong hairspray, a round comb and a hair dryer. The hair should be slightly moist at the same time. For short hair, the main thing is that the fleece is uniform, and the entire volume is centered around the top of the head. In order to give the hairstyle stiffness, some hairdressers spray each strand from the inside with varnish.
Kare: varieties of voluminous hairstyles on short hair
Such a haircut is most suitable for a volumetric hairstyle. It will be better to keep the shape of the hair due to the fact that the length is very short. In principle, from nachesa can and do give up. On the square is done the usual laying with a round comb, which is called brashing. In this way, a voluminous haircut is made for the "bean" haircut.
Volumetric hairstyles on very short haircuts
Even the shortest haircuts can be put into a three-dimensional hairdo. For example, for "boyish haircuts" you can also use a round comb, strong fixation lacquer, wax for hair styling, comb with private teeth. For such haircuts, it is better to use slanting bangs and directly lay them. To do this, clean dry hair is dried with a hair dryer in the direction of the face. Mild hair is done, protruding hairs are applied and fixed with lacquer. You can grease the tips with hair wax. For a more extravagant hairstyle, bangs can be curled onto large curlers and dried with a hairdryer. Starts strands around the roots. The result is fixed with a hairspray. In order to make the hairstyle more structured, wavy strands are lightly greased with wax.
Curls in voluminous hairstyles for short hair
The most popular in these hairstyles are curls. Currently, there are a lot of options for curling hair, but the most famous, of course, hair curlers. With the help of small curlers you can get small, but elastic curls. They are left in a loose form. In order to create a magnificent hairdo, each strand is combed separately from the rest, the result is fixed with lacquer. The larger the diameter of the curler, the less elastic curls are obtained. To give extravagance to the hairstyle, you can also use a variety of hair clips and bows.