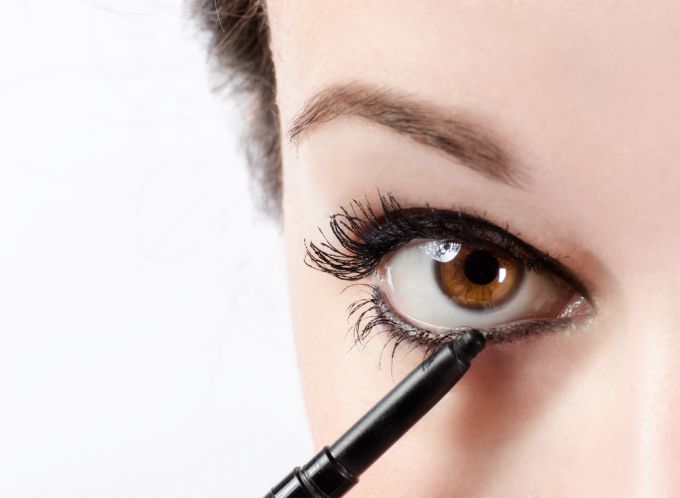 The eyes that are drawn with a black pencil look expressive and sexy. The look immediately becomes more spectacular. Many makeup options are based on this technique. Learning to own a pencil for the eyes, you can even make Arabian makeup. Female eyes are considered a focus of charm and unsurpassed beauty. And many girls try to emphasize their eyes with shadows, pencil, eyeliner. Most often use is a black pencil, as it allows you to create a different makeup. To effectively emphasize the eyes, first you will need to find in the cosmetic shop the correct and high-quality pencil.
When choosing, pay attention to the softness of the pencil. The result directly depends on this. A pencil is important to sharpen correctly so that you can draw even thin arrows. You should choose hypoallergenic pencils, since they do not irritate the mucous membrane. First you should buy a black pencil. After you learn how to draw arrows, you can buy pencils of bright colors.
So that your hand does not tremble when you bring your eyes up, lean your elbow against the edge of the table. It is desirable to do makeup in sunlight, so as not to overdo it. The arrow should be drawn starting from the inner corner of the eye. First, draw the tip of the arrow in the form of a thin line. Then draw a clear, thin line along the line of growth of the eyelashes. Gradually add colors, thicken the arrow. If you want to make a spectacular eye make-up, then it should be wide enough.
Black pencil can draw not only the arrows, they can bring and lower eyelid, as well as the mucous membrane, which will give your eyes a cat's bend. But while you are painting your eyes, mistakes and inaccuracies are inevitable. In this case, it is not necessary to remove the make-up completely, just fix the errors with a cotton swab.
For blue eyes, stylists advise choosing pencils of brown or gray, and for black and brown – green or black. You can also try makeup using a blue or lilac pencil. In this case, the look will turn out to be exciting and charming.
If you have round eyes, then you should draw an elongated arrow, so you will make the eyes look like almond-shaped, close to the ideal. Women with bulging eyes should draw fairly wide arrows.
Those who have deep-set eyes, should make thin and graceful arrows that look elegant and beautiful.
If you have an ideal eye shape, then you will look good at the classical arrows a la Marilyn Monroe – these are the black, clear lines drawn at the base of the eyelashes. In this case, do not emphasize with a pencil lower eyelid. In order to make the eyes bigger, before applying the pencil, you can add a few golden shadows to the entire mobile eyelid, as well as to the area under the eyebrows. This will make your look fascinating and attractive.
If you have thick eyelashes, then the pencil can lie unevenly. In this case, instead of a pencil, it is better to use a pencil.
Визажисты советуют делать стрелки постепенно, для этого ставьте отдельные точки карандашом вдоль линии роста ресниц, которые затем необходимо соединить. Можно также прорисовать карандашом линию по слизистой оболочке. Для этого следует немного оттянуть нижнее веко. Это придаст вашим глазам загадочности. В завершении используйте тушь для ресниц.