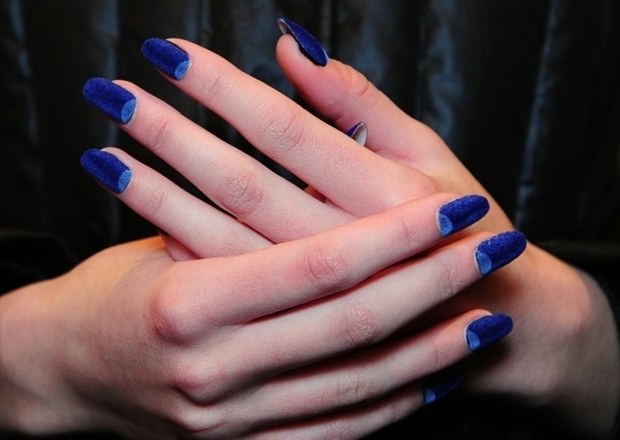 Those who love the original manicure, for sure like unusual velvet nails. Such design in the salons is done with the help of a special apparatus. But if desired, you can decorate your nails and yourself, replacing the professional spray gun with a normal brush.
Velor and Velvet: Design Features
Velvety nails have become fashionable recently. The original coating is created with the help of the finest colored villi, which are attached to the usual colored varnish. Sometimes the substrate and velvet coating differ in shade, but it is better to begin a more simple monochrome manicure. Colors can be different, especially rich in deep shades: chocolate, cherry, emerald, blue or dark gray.
The most simple variant – the plates completely covered with villi. But you can make a more complex design, combining velvet with glossy enamel. For example, try to cover the whole of the fingernail with the velours, with the exception of the free edge. Keep it shiny. Another option is possible – velvet tips on glossy nails. More experienced masters make even velvet appliques using homemade stencils. Thus on the nails can be depicted monograms, hieroglyphics, geometric shapes and other motifs.
Velor nails should not be too long. Especially stylish look plates of moderate length, having a rectangular or slightly rounded shape. Keep all nails looking the same.
How to make a velvet manicure
To work you will need a dense enamel for the substrate and velor villi of the same tone. Small packages are sold in specialized stores for manicure masters. Get a flat synthetic brush, which is convenient to distribute the villi on the nails. Top or drying for such a manicure is not required.
Form the nails and carefully grind their surface with a special saw. On ribbed plates villi will not hold properly. Apply a leveling base to the nails and let it dry. Then cover the plates with two layers of colored enamel. Apply it very carefully, streak at the cuticle with a brush dipped in a liquid to remove varnish.
You can apply villi to your nails in different ways. Observe only one rule – apply a velvet layer on a fresh, not dried lacquer. Pour the pile onto a sheet of paper and lay a fingernail to it. Do not press strongly, otherwise the coating will turn out uneven. You can act differently, by collecting portions of villi on a flat brush and gently patting it on the nail. In this way, the intensity and density of the coating can be adjusted.
Carefully brush off excess fibers with a clean dry brush. Allow the nails to dry naturally, drying or using a hair dryer is not allowed. Velvet manicure should be protected from water, wet nails lose decorativeness, and villi may lag behind the surface. Correctly applied coating holds 2-3 days, and then requires an update.