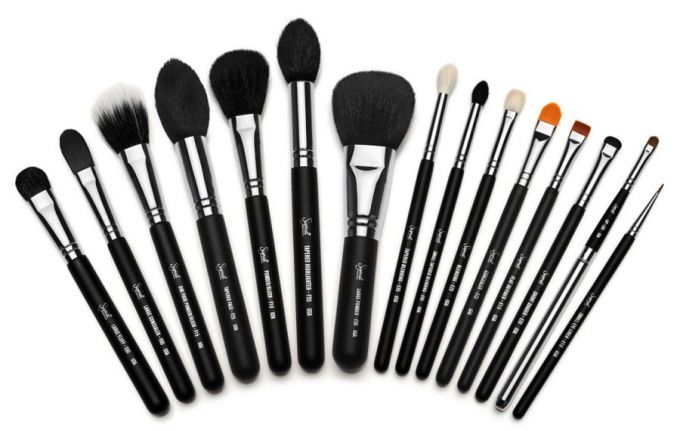 Currently, there are a large number of brushes for make-up of various forms, materials and manufacturers, produced both in sets and separately. It is important to have an idea of ??the purpose of each, so that their use brings real pleasure, and the result was excellent.
It is important to be able to choose the right brush from all variety.
This will help a few simple rules:
1. The clip must fit very tightly to the handle, do not stagger, otherwise it may just fall off at the most inopportune moment.
2. If you pull the nap, he should never get out of the brush.
3. Do not be under the delusion of the low prices of sets under the well-known brands – most likely, it is a fake.
4. It is better not to use those brushes that come with cosmetics – they are usually not of good quality.
5. It is important that the brush is tightly packed. If you remove the pile, there should be no gap greater than 1mm.
Brushes for tonal funds
The tonal base is applied with a synthetic brush, the shape of which is flat and wide, slightly rounded. Suitable not only for make-up bases, but also for foundation or concealer. Any liquid and creamy cosmetics are most conveniently applied with synthetic pile brushes, moreover they last longer and are very easy to clean in comparison with natural ones.
A similar brush is used to apply the corrector, but a smaller one. It is also convenient to use with fine sculpting of the face and applying the basis for eye makeup.
For powder there are round brushes and brushes of kabuki, differing in essence only by the length of the handle. They can have a different length of pile. Do not use too long and fluffy, since it will not be very convenient to use on small areas of the face. The material for such tools is preferably natural, it is best to choose hair whiteness, but it is the most expensive. There are more budgetary options – wool ponies and goats.
Useful in the set and a fan brush – it is very convenient to apply a thin layer of powder, as well as remove its excess.
Using friable powder, it is worth paying attention to the round brush with a flat surface.
To apply blush can be used as a round brush, and a special beveled (all depends on personal convenience), which must also consist of natural nap.
There is a special brush that helps to correct the shape of the nose. Has an oval shape with a bevelled edge.