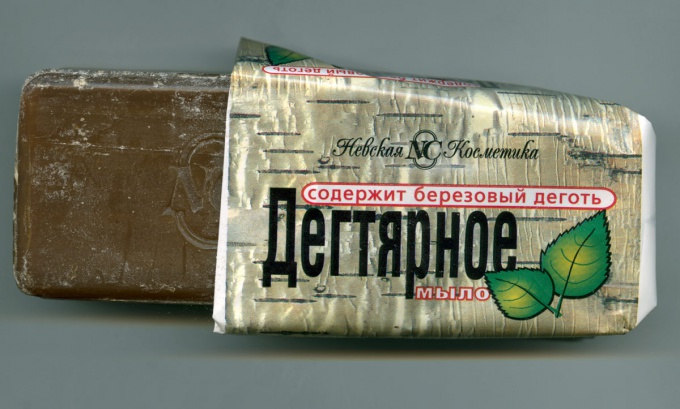 Tar soap is a unique Russian product, which has no analogues in the world. Birch tar is a popular Russian remedy for skin diseases, the effectiveness of which has been checked by time and confirmed by dermatologists. Birch tar is an oily substance of dark brown color, obtained by dry distillation of birch wood. Tar is recognized as one of the best natural antiseptics in the world. Due to its high organic acids, resinous substances, phytoncides and phenols, it has a powerful antimicrobial and anti-inflammatory effect. Traditionally, tar is used externally, namely – in the fight against various skin diseases: from seborrhea to psoriasis.
In folk medicine, and practiced the use of small doses of tar inward: it is considered an effective tool for treating the disease of the gastrointestinal tract. It is believed that it is capable of healing ulcers of the stomach and duodenum, and also cleanses the liver and blood.
The easiest way to try the healing effect of tar on yourself is to go to the nearest pharmacy and purchase дегтярное soap. The content of pure birch tar in such a soap does not exceed 10 percent, but this is quite enough to provide the necessary effect.
What is the effect of tar tar on the body? First of all, it is recommended to the owners of oily skin, as well as people suffering from acne eruptions, seborrhea, acne. Soap effectively heals inflammations and small wounds, stimulates skin regeneration, whitens and removes traces of acne.
Daily washing with tar soap will help if not to get rid of, then significantly reduce the rashes on the face, neutralize the traces of acne or comedones, whiten and refresh your face. Wash the head with tar soap helps the owners of sebaceous skin to remove fatty shine. In addition, tar prevents hair loss and effectively fights dandruff. It should be noted that owners of oily skin can wash tar soap twice a day, and suffer from dryness – one; while after washing, you need to lubricate your face with cream.
Люди, страдающие от грибка, дерматита, псориаза и подобных кожных заболеваний могут использовать дегтярное мыло в качестве вспомогательного лечебного средства, но предварительно следует непременно проконсультироваться с врачом.