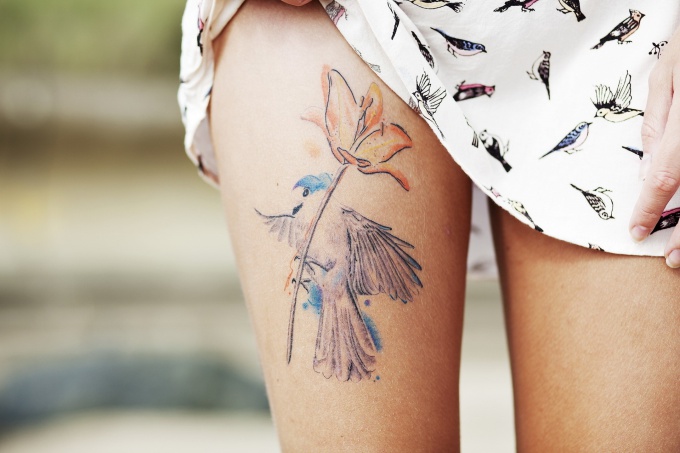 Find out where to fill the tattoo less painfully, how to prepare for the session and what is necessary for successful healing!
How much will it hurt?
It is difficult to unequivocally answer this question, because everyone has their own pain threshold, but the average data show that the most painful sensations arise when the tattoo is applied to the back region of the knee, the groin, nipples, ulnar fossa, and the inner surface of the shoulder. In places where the bones are located close to the skin (elbows, collarbones), too, will be quite unpleasant. The least painful zones are: the outer side of the shin, the outer side of the thigh, the inside of the forearm, the shoulder.
Choosing the place of the future tattoo remember that behind the tattoo on the back it will be very difficult to look after yourself!
Preparing for the session
Prepare the wardrobe for the time of healing: clothes should be free and comfortable.
During the week before the session, avoid sunburn.
Before the session, buy ointment based on dexpanthenol, absorbent diaper, hypoallergenic patch or mesh bandage.
The day before, be sure to have a good night's sleep and eat.
Alcohol and energy a day before the session should be deleted.
Tips for healing
A good master will provide you with a reminder for healing, but if this does not happen for some reason, use the tips below:
Immediately after the completion of the tuffing, thoroughly wash it and apply ointment on the basis of dexpanthenol. Wrap the tattoo absorbent diaper, fixing it with a bandage or plaster.
Next, change the compress through 10-12 hours, following the same procedures, then for the first time.
During 3-4 days, compress 2 once a day (morning and evening).
Through 3-4 the tattoo will be covered with a thin film (as small abrasion). If at the same time you experience unpleasant sensations – dryness, tightness, – then, as necessary, moisten the area with baby cream or lotion.
After about 2 weeks, the tattoo will heal. Remember that you can not comb an unhealed tattoo!
Противопоказания
After the session, avoid visiting the sauna, swimming pool, and the gym for a minimum of 3 days.
Exclude painkillers.
Within a week after applying the tattoo, avoid the solarium and the effects of sun rays.
If you are sick with diabetes, epilepsy or you have blood clotting disorders, you will have to forget about the tattoo.
You can not come to the session with fever.