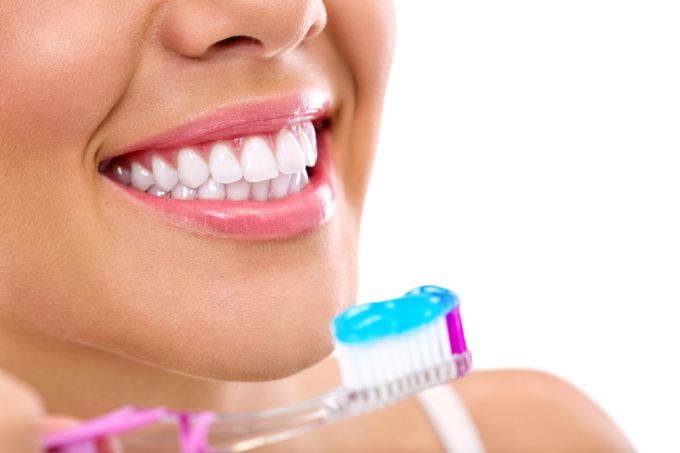 На российском рынке представлено несколько видов отбеливающих паст. Они содержат в своем составе разные компоненты, поэтому воздействуют на зубы с не одинаковой степенью эффективности. Некоторые отбеливают нежно, результат их применения виден не скоро. Другие делают зубы белоснежными быстро, но при этом травмируют эмаль.
Отбеливающую пасту отличить от остальных очень просто. У нее на упаковке написано White. Кроме того, могут быть дополнительные обозначения: Sensitive – для чувствительных зубов, Active – паста для тех, кто страдает болезнями десен, или Fhyto – для ежедневного применения.
Depending on the brand, the whitening paste acts differently. The one in which large abrasive particles are added, as well as saturated with active components, removes the dark coating very quickly. But it damages the enamel. Teeth thinned, there is a sensitivity when consuming hot and cold food. Pastes that bleach carefully, teeth do not damage. But the process can drag on for a long time. Especially if you do not stop smoking, use coffee and coloring soda.
Dentists recommend alternating toothpastes. Bleaching – with therapeutic, therapeutic – with means for sensitive teeth. Thus, all problems of the oral cavity will be solved.
Most often, buyers compare pastes from one price category. Among the expensive are SPLAT, ROCS, Lacalut, Silca. All these brands have pastes with the effect of whitening. According to customers' reviews, SPLAT whitens quickly with its task. It has a dense elastic consistency, has a pleasant smell, leaves a feeling of freshness in the mouth. Whiter teeth become after five to ten applications of the paste. In some cases, the bleeding of the gums disappears, although the paste is not indicated as a therapeutic one.
ROCS paste whitens teeth well enough. The effect of its use is noticeable after seven to fifteen applications. Some consumers note that the pasta is too sweet, and does not leave enough freshness.
Чтобы понять, какая отбеливающая паста подходит именно вам, нужно попробовать несколько вариантов. Использование пасты в течение месяца покажет, достаточно ли она эффективна.
Lacalut whitens teeth as well as SPLAT, but it costs more. This paste is suitable for sensitive teeth, since active components very carefully clean the enamel. Some buyers do not like the consistency of Lacalut, in their opinion it is too liquid.
With regard to Silca, the opinions of consumers differ. Someone likes whitening effect, someone says that differences from ordinary pastes are not noticeable. But many consumers note that Silca is excellent foam and is consumed very sparingly.
Есть и недорогие пасты с эффектом отбеливания. Их использование не всегда обосновано, так как в качестве абразива там используется обычный мел. Он сильно повреждает эмаль своими крупными частичками. Мел входит в состав дешевых паст брендов Colgate, Blendamed, Аquafresh. Они неплохо отбеливают, но при этом эмаль с каждым разом становится все тоньше. Кроме того, многие потребители отмечают, что после использования недорогих паст свежесть во рту сохраняется очень недолго. И с кровоточивостью десен эти средства не справляются.