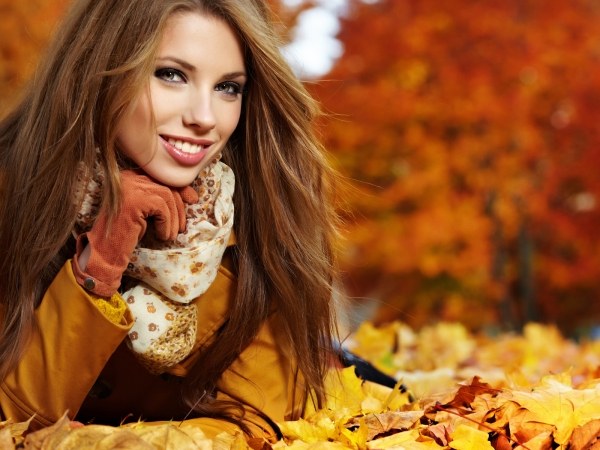 Why does one and the same thing make a woman brighter, and another gives a painful look? Because the color or shade of a thing does not match the color of the exterior. Knowing your palette of successful shades, mistakes in choosing clothes can be avoided. The brightest color-type of all is "Autumn". Such women are not lost even in the absence of cosmetics, they are highlighted by bright eyes and hair.
Signs of autumn color
The autumn woman has a warm skin undertones. A complexion of peach or golden hue. With the advent of the sun, the skin is often covered with freckles.
Hair color can vary from light golden to chestnut. Whether light hair or dark, they are always with a reddish tint or a copper glow that is visible in the sun.
The color of the eyes can be different: bright blue, emerald, green-brown, golden and richly brown.
Women's Wardrobe Autumn
When choosing clothes for a woman, autumn should choose warm colors. Against this background, the natural beauty will play brighter, effectively highlighting the woman from the crowd. To determine the good shades, you just need to look around in the autumn season.
Under your feet a wide palette of light golden to red, brown and rusty shades. Juicy greens of olive and coniferous color, shades of khaki. Autumn sky in front of a thunderstorm kerosene or dark blue. Nature itself tells you what colors for a woman-autumn will suit best.
Women with autumn color are perfectly suited for such whimsical colors as bright orange, mustard yellow and corn.
From a pure black and white woman-autumn is better to refuse, replacing them with chocolate and cream. It is also recommended to avoid cold, gray, pink flowers.
Choosing accessories, it is better to choose the gold, copper and wood ornaments. A woman in autumn is approached with complex multi-tiered beads, long earrings, large necklaces.
The bag should be brown or beige, and on the neck – chic painted handkerchief. Sunglasses should be with brown glasses, possible gradient. The frame should be chosen warm brown, golden or copper shades, let's say a leopard.
Make-up of the woman-autumn
The tonal cream should be with a warm golden podton. When choosing a blush, give preference to peach, brown and red tones.
In combination with red hair, shades of greenish shades will look great. Also for the autumn color, golden, beige, peach, copper and lilac shades will suit. Lipstick shades: warm red, brown, eggplant.
Autumn women are very bright and charismatic by nature. Warm, cozy fabrics and the right color scheme will reveal their inner "I", and light make-up will give charm.