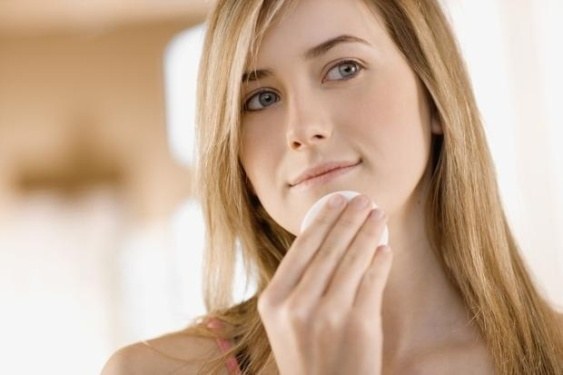 Women who have oily skin often face such a problem as acne. They are able to spoil the impression, even from the most attractive appearance. To get rid of them and prevent their appearance, regularly use a variety of tinctures and lotions.
Tincture of medicinal herbs has a strong antibacterial and regenerating effect. In addition, it gives the skin a healthy shining appearance and removes greasy luster. To prepare tinctures, mix in equal proportions the crushed dry grass of wormwood, St. John's wort and hops. Fill with 1 Tbsp. of the collection of 250 ml of boiling water and cover. Wait for complete cooling and strain the infusion. Then mix it with ? cups of vodka and 1 st.l. grape or apple cider vinegar. Dampen the cosmetic disc in the finished tincture and wipe the face on the massage lines.
From dry wormwood you can make an effective lotion from acne. Fill with 1 a glass of boiling water 1 st.l. raw materials and leave for half an hour. After this time, strain the infusion, add to it 1 st.l. freshly-flowered juice and 1 tsp. table salt. Stir well and use it in the morning and evening to wipe the face.
Fir oil is an effective remedy against acne. It regulates the work of the sebaceous glands, narrows the enlarged pores and gives the skin a matt, healthy appearance. For effective treatment of pimples, fir need to be applied pointwise. You can mix it with pumpkin or kalinovym juice – on 1 st.l. juice a few drops of oil. Wadded cotton swab in lotion and wipe your face.
To make a tincture against acne, use the petals of the white lily. In glassware, pour ? cup of crushed petals, pour them into 250 ml of vodka, close the lid and leave for 1 a month. After this time, strain the tincture and use it to treat acne.