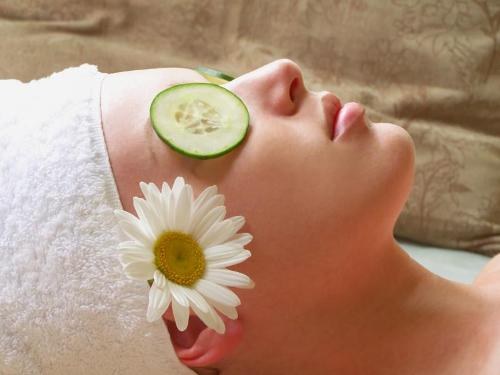 Skin eyelids are quite tender and sensitive. That's why she, like no other, needs constant careful care. Otherwise, you risk becoming the owner of dark circles and bags under the eyes, as well as early wrinkles. For the skin of the eyelids, natural masks that are simple and accessible in cooking are incredibly useful.
Parsley is the most common and effective folk remedy for fighting dark circles and swelling under the eyes. It tones up the skin and makes it more elastic, which allows you to get rid of superficial wrinkles. In a blender, chop fresh parsley so that a mass of mushy consistency is obtained. Mix it with rustic sour cream in the proportion of 1: 2 and apply on the skin around the eyes a copious uniform layer. Cover the top with cotton wool or gauze. Remove the mask should be a cold infusion of black or green tea.
To quickly remove dark circles under the eyes and remove puffiness, use a mask of potatoes. Before cooking, boil one medium tuber, mash it and mix it with a small amount of warm milk and a yolk of one chicken egg. Apply the mask to the eyelids and hold 15 minutes, then rinse with cold water.
Sour cabbage has a tonic effect on the skin around the eyes, relieves swelling and reduces the number of wrinkles. In the cheesecloth wrap a little chopped cabbage. The resulting compress is applied to the eyes and hold 15 minutes. At the end of the procedure, wash with cool water.
To prepare a rejuvenating mask, mix the liquid flower honey with ground oat flakes in equal proportions. Kashitsu put on eyelids and keep for 20 minutes. Remove the mask first with warm water, then with cold water. Instead of oat flakes you can use cottage cheese. In this case, the components are mixed in the proportion of 1: 2.