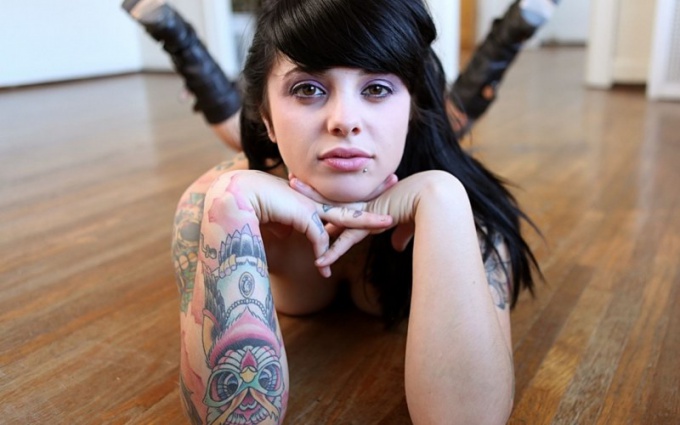 Original decorate your body with a tattoo. The method of application and the materials used are constantly being improved. Neon tattoo is a new fashion trend.
Neon Tattoo
Neon tattoo is now very popular. The figure glows on the body with ultraviolet radiation, but in daylight it is not visible at all. This pattern will last a couple of weeks. The duration will depend on the materials selected. The tattoo can be completely glowing or have only a neon outline.
Such decoration will be to the liking of club party-goers. They will not go unnoticed in the crowd of dancers, as the tattoo will manifest itself in the light of neon lamps and will attract the gaze of others. A similar version of the tattoo is suitable for business people, since the bizarre pattern is completely invisible during the day. It can be applied to visible parts of the body without fear of getting a reprimand from the employer.
Tattoo Application Procedure
Beautiful neon drawings on the body can be applied by an experienced and skilled craftsman. It is necessary to show special care during the work, as the paint is rather liquid. It contains special luminous pigments. Neon tattoo can be seen even at a distance of 15 meters. The brightness of the picture will depend on the lighting. The master paints the tattoo in the light of an ultraviolet lamp. The length of the procedure depends on the complexity of the drawing and its size.
Neon tattoo can serve as a test before applying a real tattoo, which will remain on the body for life. The first thing you need to decide on the picture, its size and location. Girls often make tattoos on their legs, neck, scapula and arms, less often – on the chest and back. Before the procedure, you can experiment at home, cut out the picture, attach to the body and twist in front of the mirror. It should be remembered that under special lighting it will be much brighter and more noticeable. Evaluation of friends and relatives will also be welcome.
It is best to do tattoos in professional tattoo parlors from an experienced master to avoid future problems. The masters can be chosen on the recommendation of acquaintances or in advance to see the portfolio with ready-made works to be convinced of the professionalism of the person. Used neon paints should be certified. Some unscrupulous manufacturers add to their products dangerous chemicals that can only be used for industrial purposes. Dangerous for the body and phosphorus. It should not be part of the paint. Before proceeding to apply the pattern, you need to check the skin for an allergic reaction. Otherwise, tattooing is strictly prohibited.