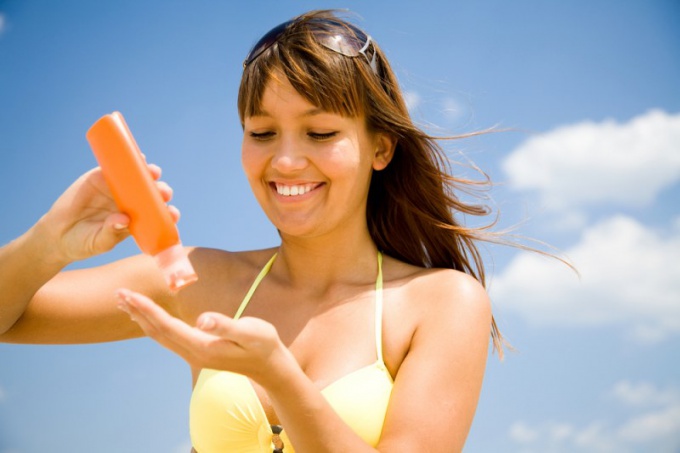 During exposure to the sun, the skin is exposed to UBV and UBA rays. At the same time, melanin is produced, which causes a dark shade. In addition to a beautiful smooth tan, you can get a burn. But the negative effect of the sun on the skin can be reduced by using special means for protection and restoration.
For half an hour before sunbathing, apply to the skin a cosmetic with a filter suitable for the skin type. Clothes, too, misses the rays, so distribute the cream, spray or milk throughout the body. For 15 minutes before going out in the sun, drink freshly squeezed carrot juice, enough 150 ml. This drink will help make the tan more even and firm. Hair is also exposed to aggressive sunlight. Use special products, such as coconut or olive oil, to protect your hair. Strengthen the effect of headgear: broad-brimmed hat or turban. If you have many birthmarks on the body, then the skin will burn strongly. Before you go to visit a dermatologist, he will appoint suitable means to help avoid burns. Try on the beach under an umbrella, put on a hat. Before going outside, grease birthmarks with a thick layer of cream with a high level of SPF. SPF – the degree of protection of the skin from the radiation of ultraviolet rays. The higher this figure, the longer you can stay in the sun without the risk of getting burns. Sunglasses must also be chosen correctly. So, on the chosen model should be specified by the manufacturer, what is the permissible percentage of penetration of rays and the degree of their
blocking
. An important factor is the refractive index, the larger it is, the thinner and more transparent the lens itself. Put a cloth under glass or plastic with a geometric pattern, good points will have minimal distortion of the print. The frame should not crush or fall off the face, and the size of even a large model can not exceed 1 / 3 of your face. After sunbathing, you can take a cool shower. Then wipe the skin with a towel and drink warm tea. Apply to the whole body a special balm after sunbath, it will restore the skin, saturate it with moisture. From redness and burns, foam, ointment and cream with panthenol content will help.