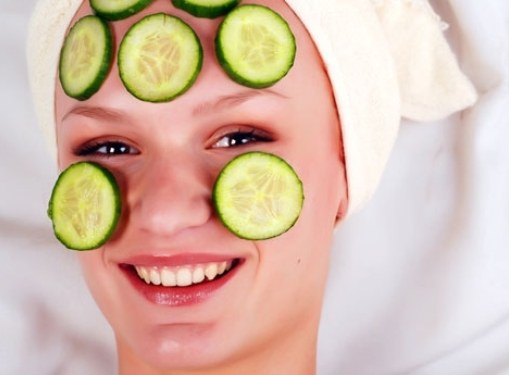 Cucumber is not only a tasty, but also quite useful vegetable. It contains a huge amount of microelements and vitamins. That is why cucumber masks have a beneficial effect on the skin. They cleanse, soften, moisturize, soothe, and also narrow the enlarged pores and remove excess gloss.
For tired skin, the following recipe is ideal: on a fine grater, grate fresh cucumber and mix 1 st.l. of the obtained mass with ? tbsp. white clay. Stir well and add a little boiled water so that a thick consistency is obtained. Evenly apply the composition to clean skin and leave it for 12-15 minutes. After rinse with cool water.
Nourishing mask is quite simple to prepare and is considered universal. On a small grater, grate the medium cucumber. In the received mass add 1 st.l. vegetable oil, warm milk and cottage cheese. Mix all ingredients until smooth and apply on face. Remove the mask after 15 minutes with cool mineral water.
For dry skin, a mask of 3 st.l. fresh cucumber juice and 1 st.l. almond oil. With the mixture obtained, brush your face and wait half an hour. After this time, wash with warm water. After this procedure, the skin will become incredibly smooth and velvety.
Owners of oily and problem skin can make the following mask: 2 st.l. Mix fresh cucumber juice with pre-whipped egg whites. The composition is applied with a cotton swab or a special brush on the face strictly on the massage lines. Hold the mask for 15 minutes and rinse with mineral water.