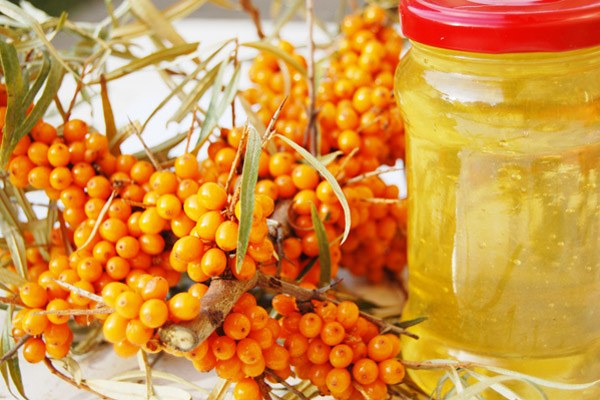 To have healthy and beautiful curls, it is not necessary to resort to expensive cosmetic products. Sea-buckthorn oil is an excellent and long-proven means to help make hair thick and silky.
Masks for hair with sea buckthorn oil
To get rid of hair loss, 2-3 tablespoons of sea-buckthorn oil warmed in a water bath and evenly apply on the strands, rubbing it with massage movements for 10-15 minutes. After that, wrap your head with a plastic wrap and a warm towel. Rinse the oil through 1-1,5 for an hour with plenty of water using a shampoo. Repeat the procedure at least 2-3 once a week.
To enhance hair growth, dilute dipexide with cold boiled water at a ratio of 1: 8. Then 1 a tablespoon of this solution mix with 2-3 tablespoons sea-buckthorn oil. Ready mixture put on the head and rub into the roots of hair. After 15-20 minutes, wash off the mask with shampoo and rinse the head with acidified water. Use this tool 2 once a week.
Restoring damaged hair will help a mixture of sea buckthorn, burdock and castor oils. Each ingredient, take 2 tablespoons, mix everything and warm it in a water bath. To achieve a greater effect, you can add a drop of vitamins A and E to 2. Finish the product into the roots of the hair, then distribute it along the entire length. After that, put on a plastic cap and wrap your head with a towel. After 30 minutes, wash off the mask using a shampoo.
To prepare a remedy for dry hair, first make a decoction of burdock root. To do this, 3 tablespoons dried burdock root pour 1,5 cups of boiling water, put on a slow fire and cook for 15 minutes. Decoction cool, strain and enter into it 5 tablespoons of sea buckthorn oil. After mixing thoroughly, apply on dry hair for 30 minutes before washing.
A few nuances of using sea-buckthorn oil for hair
First, the sea-buckthorn oil must be slightly heated before use. And after using the remedy, ringlets should be rinsed with herbal decoction from chamomile, nettle or linden.
Secondly, mask for hair based on sea buckthorn oil must be prepared immediately before the very use. All ingredients are important to thoroughly mix until smooth. And apply the mask better by hand, a little massaging the scalp.
Third, do not exceed the time of using the mask. Fourthly, before applying the mask with sea buckthorn oil for hair, you should check whether it contains components that can cause you to have an allergic reaction.