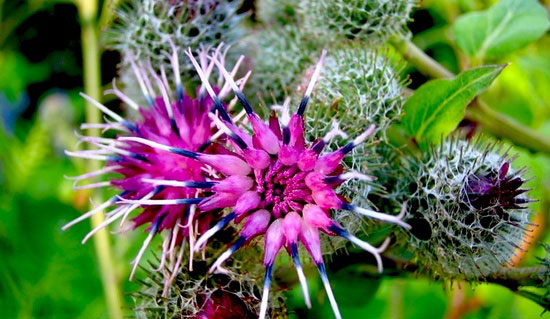 At all times women have sought to have beautiful hair. And beautiful hair is healthy hair. Therefore, there are a huge number of recipes for different hair masks for all occasions. One of the most common problems with hair is loss. Burke with this problem will help burdock oil. It contains substances, renders it strong and stimulates active growth.
Burdock oil from hair loss
The simplest recipe for the use of burdock oil is to rub it into the scalp in its pure form. Also, a small amount of oil must be applied over the entire length of the hair. Then put on a polyethylene cap, and on top a terry towel. Thus, a thermal effect is created that enhances the penetration of useful substances. Keep burdock oil on your hair should be at least 1 hours.
Oil and pepper
Burdock oil can be combined with different ingredients. For example, if you add a tincture of capsicum, which is sold in the pharmacy, the effect of the mask will increase several times. The fact is that by causing burning, pepper tincture enhances the flow of blood to the scalp. This ensures better nutrition of the hair follicles, and also has an antibacterial effect. A burdock oil, in turn, relieves dryness of the scalp and itching. Mix the tincture of chilli pepper and burdock oil 1 to 1, keep from 30 mines to 1 hours, without wrapping. If you put a plastic cap and a towel and keep it longer, you can dry the scalp.