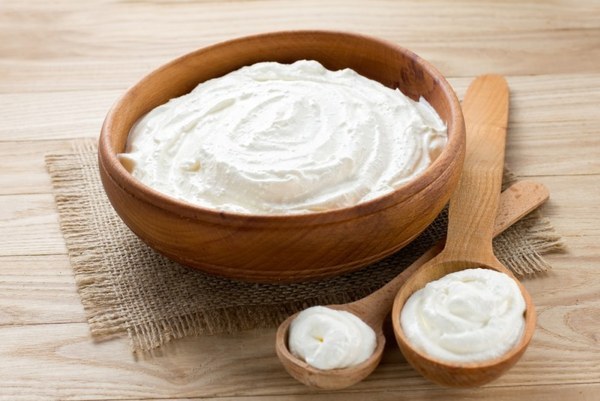 Sour cream – a dairy product, based on which you can at home prepare excellent cosmetics for skin and hair care. And to achieve the desired effect, the procedure is important to conduct regularly.
Sour cream for face skin
To prepare a nourishing facial mask based on sour cream, take 1 banana and 1 persimmon, carefully crush the fruit to a puree state, add to this mass 1 a tablespoon of sour cream and 1 a teaspoon of lemon juice. All components are mixed and evenly applied to the skin, leave for 10 minutes, then wash with cool water. Carry out the procedure every other day for 2 weeks.
To prepare a toning mask, you will need:
– peel 1 / 2 lemon or orange;
– 3 tablespoons of low-fat sour cream;
– 1 teaspoon of natural honey.
Mix all the ingredients thoroughly, apply to the skin of the face and hold for 10-15 minutes. Rinse with green tea. Such a mask is contraindicated to people who are intolerant of the components entering into it.
From sour cream it is possible to prepare and an excellent rejuvenating mask. To do this, boil 1 potatoes, mash it, add 1 yolk and 1 a tablespoon of sour cream. All mix and in a warm uniformly apply to the skin of the face. Rinse off with 10 minutes with cool water. This same mask is suitable for the care of the skin of hands, which is no less in need of care.
Sour cream for the skin of the neck, lips and eyelids
Sour cream-based lotion is an excellent remedy to help smooth out wrinkles on the neck and avoid the appearance of skin flabbiness. To make it, ? cup sour cream rub with raw yolk, then add 1 a tablespoon of vodka and juice ? lemon. With this lotion, lubricate the neck skin daily. Keep the product in the refrigerator in a tightly closed bottle no more than 1-th week.
To strengthen the skin of the lips and eyelids, prepare a mask from 2-teaspoons of sour cream, ? teaspoon of cottage cheese and 1-th raw yolk. The mixture is applied to the eyelids and lips and leave for 10-15 minutes, then rinse with warm water.
Sour cream for hair
To prepare a moisturizing hair mask, mix the flesh of 1 avocado, 4 teaspoons of sour cream and 3 teaspoons of olive oil. The resulting mass is applied to damp hair and hold for 20-30 minutes, then rinse with plenty of water.
Excellent nourishing hair mask from 2-x table spoons of sour cream, 1 yolk, 1 / 2 juice of lemon and 2-teaspoons of celery juice. Massage movements, apply the product on the hair and leave for 30 minutes. Rinse with warm water using shampoo.
To strengthen thin and weakened hair the mask from sour cream with kefir, taken in equal proportions will help. Apply it for 30 minutes before washing your hair. Repeat the procedure at least 2-x once a week.