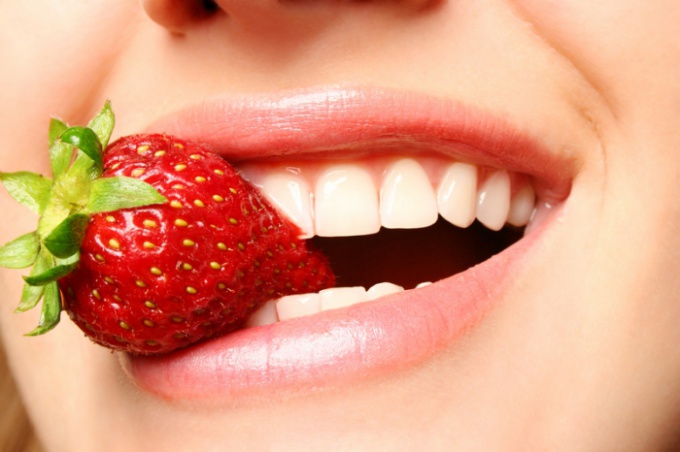 Everyone dreams of a magnificent smile with snow-white teeth. But not everyone has it ideal. Many are embarrassed and do not know what to do. There are several ways to whiten your teeth at home and make the smile delightful.
A beautiful smile is a weapon that fascinates everyone around. But, unfortunately, not everyone can boast of snow-white and well-groomed teeth. Of course, the easiest way to fix this problem is to go to the dentist. But if you do not have the opportunity to visit this specialist, then there are ways that you can use at home conditions. Ways to make your teeth snow-white, and a smile attractive.
Bleaching with baking soda and lemon juice
Excellent bleaching properties are common baking soda and lemon juice. To Your Teeth become whiter, you need to prepare a mixture of 2-3 drops of lemon juice and a teaspoon of baking soda, and then this mixture brush your teeth. But this method can be used no more than once a week, since there is the possibility of damaging the enamel.
Rinse mouth after eating
Do not forget to rinse your mouth after eating. This will help remove the remnants of food and prevent tartar.
Reduced consumption of coffee and tea
The formation of a yellow coating on the teeth is promoted by substances contained in coffee and tea. Try to drink less. It is better to drink more clean water.
Do not smoke
Nicotine leaves an ugly yellow tint on your teeth, which is hard to get rid of. If you want to keep your teeth white, and the body healthy. Quit smoking.
Whitening with ammonia
There is another good remedy for fighting yellow plaque on the teeth. This is ammonia. To make the teeth noticeably whiter, you need to moisten the cotton swab in alcohol and brush your teeth for a few minutes. After a good rinse mouth. This procedure can be conducted no more than once a week.
And most importantly – do not forget to undergo an examination at the dentist 2 once a year.