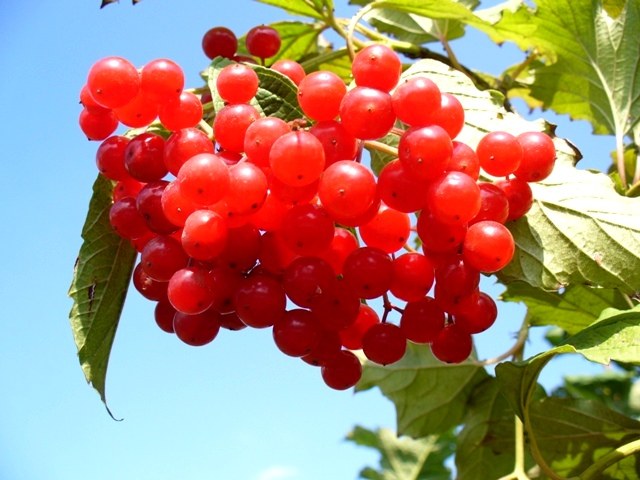 I suggest simple facial masks in home cosmetics with the use of viburnum berries, which can be applied easily and efficiently every day. For a long time, women have used cosmetic products from viburnum to give the face freshness and radiance. In this case, the face is whitened, restores the natural color, wrinkles disappear. These recipes of homemade cosmetics from the viburnum, will always help to stay beautiful and young, without requiring much investment and time.
Simple mask made of Kalina for skin restoration
From pure fresh berries of a vinegar squeeze out a small amount of juice, put on the skin of the face. Leave the minutes on 15-20 and rinse off with cool water. Warm water is not recommended, it makes the face skin flabby and enlarges the pores. To complete the care, use a moisturizer. A good tool helps with sedentary office work, especially in winter-spring time.
Nourishing mask from Kalina for tired face skin
Чтобы приготовить эту маску вам понадобятся:
• Sour cream – 1 teaspoon;
• Juice fresh (or thawed) berries of viburnum – 1 teaspoon.
Sour cream and the juice of the viburnum must be mixed, and then applied to the skin of the face and neck, for convenience use a cotton pad. Leave the mask for 20 minutes, after which you can wash it off with warm water. For a better effect, you can apply a mask of viburnum 3-4 a week before bedtime.
Recipe for home cosmetics from Kalina for clarifying freckles and pigment spots
Frost the viburnum juice in special ice molds. In the morning gently massage your face with this cube. Walk around 10 for a few minutes, then rinse your face with cool water and apply the day cream that you usually use. This procedure well clarifies and tones up the face, smoothes wrinkles, gives the skin a blush.
It is not recommended to wipe your face with frozen juice in case of inflamed skin and before going out on the street in the cold season.
Используя эти простые рецепты домашней косметики из калины, Вы всегда будете прекрасно выглядеть, не тратясь на дорогие косметические средства.