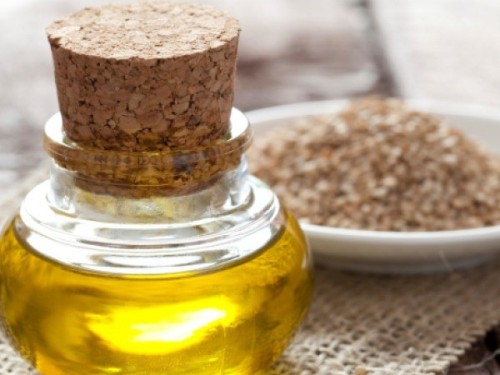 Sesame oil helps to restore and improve hair. It has pronounced moisturizing properties, so that the curls become shiny and elastic. In sesame oil contains substances that are necessary for good growth and appearance of hair.
Sesame oil has a rich composition, which includes many useful components for hair. When applied, it delicately removes keratinized particles and dirt from the scalp. In addition, oil promotes faster cell regeneration.
It is especially useful to use sesame oil in the summer, since it eliminates the negative effects of ultraviolet rays and provides additional nutrition.
Sesame oil is suitable for caring for any type of hair. It normalizes the work of the sebaceous glands, gives shine and strength to the curls. It can be applied both separately and as the main component in the composition of various masks, which are easy to make in domestic conditions.
If you decide to use the oil in its pure form, heat it in a water bath, and then massage into the roots of the hair, distributing the remainders along the entire length. Then put on a plastic cap and wrap your head with a towel. After two hours, rinse with warm water and shampoo.
Make a mask can be as follows: connect 5 drops of sesame oil with 2 st.l. oil solution of vitamin E. Keep the mixture on your hair for at least half an hour. Repeat sessions are recommended once per 5-7 days.
To prepare a nutritious mask, mix sesame oil with egg yolk, banana, honey or grated ginger. Apply the compound to damp hair and wash it off in 20-23 minutes. Such procedures are sufficient to hold once a week.