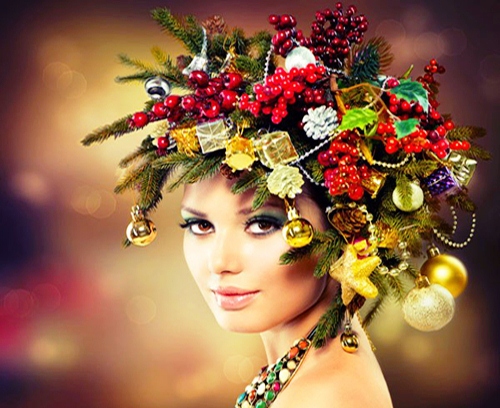 New Year's holidays – this is an excellent opportunity for a woman to shine with a new outfit, an original hairdo and show her culinary and organizational skills. Festive preparations do not exclude expressive make-up. In this article we will share a few recommendations on the selection of cosmetics for the New Year's make-up and the rules for their application.
Instructions
When choosing cosmetics, experts advise to focus on one manufacturer, preferably proven in the market. Since the products of different firms have different secrets and components. Therefore, do not overload your skin with a complex abundance of chemical compounds and stick to one cosmetic line.
Makeup, of course, should be in harmony with your outfit. If you decide to try yourself in a new, unusual image, it is better to hold a cosmetic rehearsal session in a few days to be sure of your choice.
The New Year party can stretch until the morning, so you need to make sure that your makeup as long as possible retains its freshness and clarity. As a basis for make-up, stylists are advised to use a primer. This miracle-tool not only will give stability to make-up, but will also make the skin of the face more even and regular shade.
New Year's Eve is the right time for bold experiments. Sometimes it is difficult for a woman to determine the what to do accent: eyes or lips … In a magical winter night, you can safely use two options at the same time. Do not deny yourself in false eyelashes and brilliant eyeliner for the sake of your favorite juicy, red lipstick.
Not every mascara will take a long festive evening and can crumble, and eyelashes lose their shape and expressiveness. Therefore, the ink should be applied immediately with a double layer, from the roots, slightly twisting the brush. And with the formation of lumps just swipe the tips of your eyelashes with your fingers.
For New Year's make-up stylists do not advise to use shimmering powder. This is due to the fact that in the light of festive lights, fireworks and camera flashes, the powder may appear on your face with bright, illuminated spots. This effect is unlikely to decorate, and may cause an unpleasant reaction from others. If the temptation is too great, then put the powder only on the cheekbones, for a part of the eyelids under the eyebrows and the lip contour.