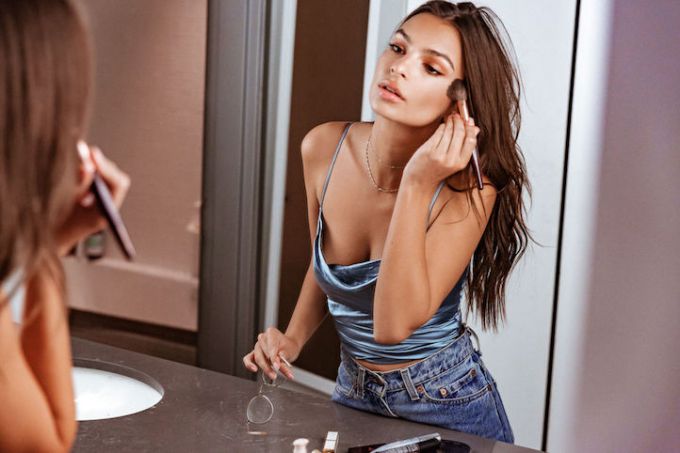 Emily Ratakovski is a sensational girl who became famous after filming in a provocative video. She is happy to share her tricks, which help her to remain attractive and sexy.
Emily prefers to do makeup herself, including for the red carpet. And she begins her beauty ritual with a two-phase cleansing of the skin: first uses a gel for washing, and then – cleansing milk.
Emily has beautiful skin, so she does not need to use a foundation, but if she has to, she chooses a medium-colored cream. Emily watches her eyebrows very carefully, but she is not a fan of clearly defined eyebrows. She only needs to fill in the empty space with a pencil, the shade of which coincides with the natural shade of her eyebrows. For the make-up of her eyes, Emily chooses light natural shadows with a slight glow effect.
Emily Ratakowski prefers to create the effect of cat eyes with eyeliner, supplementing the image with ink to create a volume, so that the eyelashes appear thicker, and the eyes – more expressive.
Blush supermodel prefers cream, chooses natural shades that coincide with its natural.
Emily's nature is very straight hair, which is absolutely devoid of volume, so they are so smooth actually from nature. Although Emily dreams of voluminous curly hair and occasionally allows herself a perm. The secret of the radical volume from Emily Ratakovski is an ordinary baby powder, as no dry shampoo helps it.