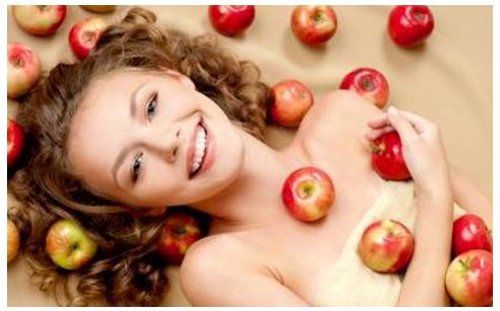 To properly care for the skin of the face, it is necessary to clean it regularly, and then it will better absorb moisturizing, nutritious and rejuvenating agents. And the best for these purposes are suitable scrubs from natural ingredients.
For making apple scrub in the home conditions Half a peeled green apple should be rubbed on a fine grater. Green apple contains many vitamins and organic acids, and therefore it is simply irreplaceable as a nutritious, vitaminizing and emollient component for scrub. It's not for nothing that apples are called "juveniles".
Pour the rubbed apple into a bowl. Then two teaspoons of almonds should be ground in a mortar. Milled almonds will gently cleanse the skin and remove the dead cells. Pour the nuts to the apple. All very thoroughly mix. To the resulting mixture, add a teaspoon of natural yogurt and mix everything again.
The fact is that lactic acid, which is contained in yogurt, accelerates the processes of skin regeneration and renewal. Add the last ingredient – 3 drops of almond oil. Almond oil has moisturizing properties, it perfectly softens and refreshes the fading skin. Once again we mix all the ingredients and the scrub is ready.
It is worth remembering that a home scrub should be stored in the refrigerator for not more than one week. The best time for skin cleansing with scrub is the evening before bedtime. Such a scrub gently cleanses the skin, removes from its surface keratinized scales that impede the breathing of the skin and interfere with the penetration of vitamins and nutrients, in addition, this scrub tones up and moisturizes the skin.