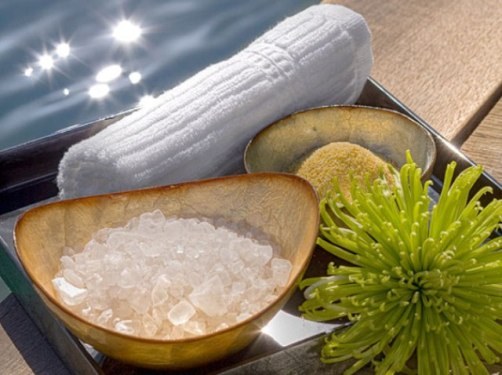 Modern women with special care approach to the issue of self-care. That's why natural remedies are incredibly popular. To bring the body in order at home will help salt wraps, which differ in their efficiency and simplicity in performance.
Saline wraps contribute to weight loss, removing slag and excess fluid from the body, getting rid of cellulite. Before the procedure, the skin should be cleaned of keratinized particles with a scrub and well steam. In this case, it will better assimilate the beneficial substances of the composition
for wrapping
, and toxins and wastes will escape through the open pores.
Recipes of salt wraps
1. С ламинарией. To prepare the formula, mix ? cup of sea salt without preservatives with 2 spoons dry ламинарии. Pour in 1 / 3 cups of warm boiled water and leave for 20 minutes. To enrich the composition, you can add 1 tsp. camphor oil. Blend the mixture on the problem areas of the body, wrap the food film and lie down under a warm blanket. After 35-40 minutes, rinse the skin with a stream of running warm water. Repeat the procedure once per 10 days for 2-2.5 months. 2. With honey. This compound is quite effective in combating cellulite. Stir liquid natural honey with sea salt in equal proportions. On a well-heated and cleansed skin, evenly apply the product, cover with a food film and hold for at least two hours. Then rinse with warm water. You can conduct the procedure in the bath. In this case, you do not need to wrap the body with film. 3. With olive oil. Mix 1 a glass of sea salt with 250 ml of hot boiled water. Then add an 1 glass of olive oil. In addition, you can enrich the composition with a few drops of orange oil. Wait until the mixture has cooled to 36-37оС, and apply to problem areas using a natural washcloth or a soft brush. Wrap the body with film and lie down for half an hour under the blanket. Repeat this procedure is recommended once or twice a week for a month.