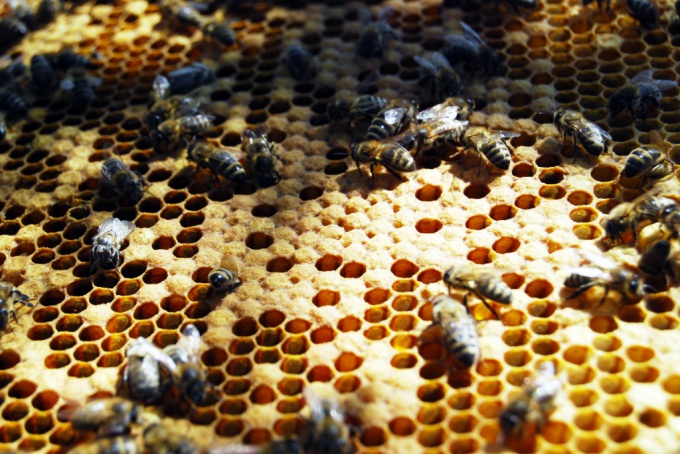 Royal jelly is a product of the life of bees. They feed their offspring. It contains a huge amount of nutrients and vitamins. Many well-known companies add royal jelly to their cosmetic products, as it positively affects our beauty.
Маточное молочко содержит в себе аминокислоты, фруктозу, витамины С, В1, В2, В6, РР, минералы: магний, кальций, цинк, серебро и т.д. Продается оно в сушеном виде и замороженном. Конечно, лучше второй вариант, так как все питательные вещества сохраняются практически в полном объеме. Хотя стоит оно не дешево, но на ряду с дорогостоящими кремами превосходит их в несколько раз. 
It nourishes the skin, instantly penetrates into it, moisturizes, makes it more elastic, removes wrinkles, accelerates the regeneration of cells. And it is considered an elixir of youth, as it slows the aging of the skin. Enough 10 g of royal jelly is mixed with 20 g of olive oil and applied to the skin with massaging movements. Store this mixture in a bottle of dark glass, in a refrigerator and shake before use. You can mix it with your favorite cream. On 150 g cream you need 30 g royal jelly. Keep, also, in the refrigerator. After 2 weeks of application, you will see the difference and be amazed by it.
Well it acts on the hair. Apply 2 times a week a mask from a mixture of 5 st. l of olive oil and 1 tsp of royal jelly. Well miss the roots, and apply the rest to the full length. Put on the hat and wrap the head with a towel. Leave at least 1 hours. Wash off the mask with shampoo. To facilitate the procedure, you can mix with a hair mask or conditioner, leaving for 10 minutes. Your hair will become more vibrant, shiny and silky.
Applying royal jelly inside you, too, will see a cosmetic effect. The skin will get a healthy and fresh look, and the hair will become more beautiful. To do this, use 50 ml of royal jelly in the morning for 15 – 20 minutes before breakfast, you can drink 1 / 2 a glass of water.
Royal Jelly will help you to change. You will gain a beautiful appearance, improve the health and condition of your skin and hair.