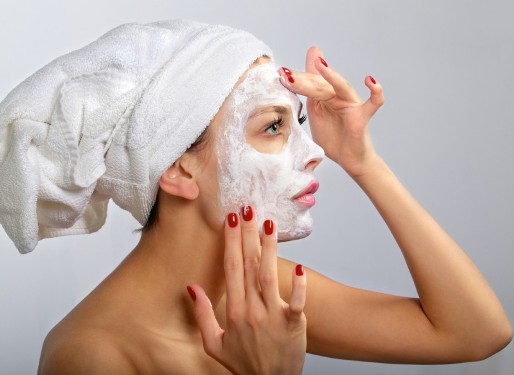 The first wrinkles are almost invisible, but from this moment it is necessary to start intensively caring for the skin. This does not mean that you should contact a professional cosmetologist, because there are many recipes for rejuvenating home remedies.
Before applying the mask, cleanse the face of makeup and debris residues and apply a compress made of linen cloth moistened with hot water. Such an extraordinary procedure will enhance the effect of masks.
A good nutritional effect is masked with boiled corn, peas, beans, pumpkins and potatoes. These products can be combined with olive oil, various dairy products and honey. If the skin needs to be bleached, use lemon, cucumber, currant and gooseberry. Raspberries, strawberries, peach fruits have softening properties. Narrow pores will help pomegranate, egg white, quince and cranberries.
At the first signs of skin aging it is useful to make compresses from medicinal herbs. A mother-and-stepmother, chamomile, sea buckthorn and yarrow have a good rejuvenating and tightening effect. In a herbal broth, moisten a linen napkin and attach to the face for 10-15 minutes. You can cover it from above with a towel to keep it warm.
After any mask on the skin you need to apply a cream. To make it, take a peel of three lemons, pour it with a glass of boiling water and leave to infuse for 8 hours. Then strain the liquid and mix with the juice of three lemons, 1 tsp. honey and olive oil, 2 st.l. cologne and cream. Keep the product in the refrigerator. Before use, heat the cream to room temperature.
Rejuvenating cream can be made from chicken yolk, chopped berries of mountain ash and honey. All components are taken in equal proportions. Mix the products until smooth and add 15-20 mL camphor alcohol. Keep the finished cream in the refrigerator.