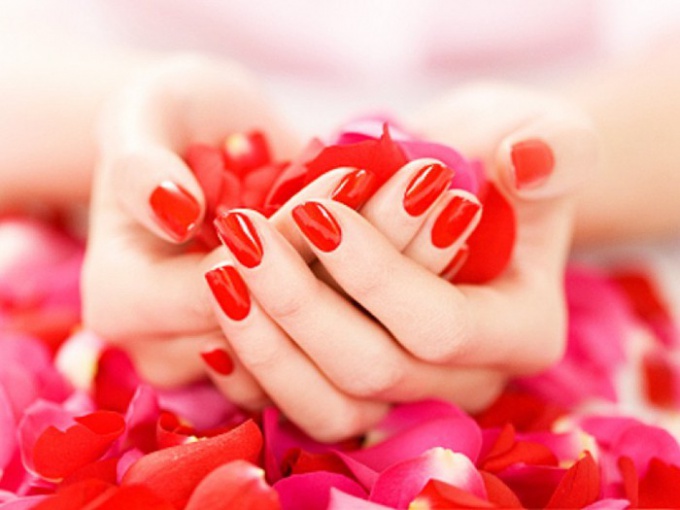 After a fruitful summer in the country, it's time to bring your hands in order. Do not rush into the store for expensive means: the best masks can be made from what is in your fridge.
Before you start masks, you need to prepare your hands. To do this, thoroughly wash them with soap or using a scrub. Make sure that the components of the mask do not cause you allergies, and also remember that the masks are strictly contraindicated for rash, eczema and fungus. If the condition of the hands is critical, take care of the plastic bag and warm mittens in advance to enhance the effect.
To wash off the mask should be without using soap, but you can use a decoction of medicinal herbs. And also after the mask should not immediately grab for washing and dirty dishes!
In order to return the hand skin softness and freshness, mix 1 st.l. glycerin, 1 st.l. honey and 2 st.l. boiled water. Before getting the right consistency, add oat flour (just chop the flakes in a coffee grinder), and then apply to your hands for 30 minutes.
To soften the skin before going to bed it is recommended to make such a simple mask. Mix 1 tsp. honey, 2 tsp. vegetable oil, 1 egg yolk and half a teaspoon of fresh lemon juice and mix thoroughly, then apply to the skin of the hands evenly wrap the brush in polyethylene, put on the mittens and leave for an hour. After rinse without soap and apply moisturizing cream.
An excellent softening and reducing agent will serve as fatty mayonnaise. Put on your hands, wrap in a film and leave for an hour!
Did you know that potatoes are an excellent base for masks. Wipe the raw potatoes on a grater, add a teaspoon of honey and lemon juice and apply to the skin of your hands for half an hour. And you can boil a couple of small potatoes, mash in a puree and add 2 tsp. lemon juice. Apply to the skin for 2 hours, wrapped in film and wearing warm mittens.
Melon has a unique rejuvenating effect, so in the season, try to crush the melon pulp with the addition of lemon juice and starch (about a teaspoonful) and apply to the skin for 20 minutes.
Do you want "white handles"? Then soften the stale white roll in milk and apply the resulting gruel to your hands for 30 minutes. Whitening effect is provided!
For moisturizing, a mask made of corn oil is perfect. Heat a small amount of oil with a water bath and put on hands. Wear cotton gloves and leave for a time from half an hour to night.
Perfectly nourishes the skin of the hands carrot mask. Add a small carrot on a small grater, add 1 st.l. fatty sour cream and add a teaspoon of vegetable oil. Apply on skin, wrap hands in film and leave for 40 minutes.