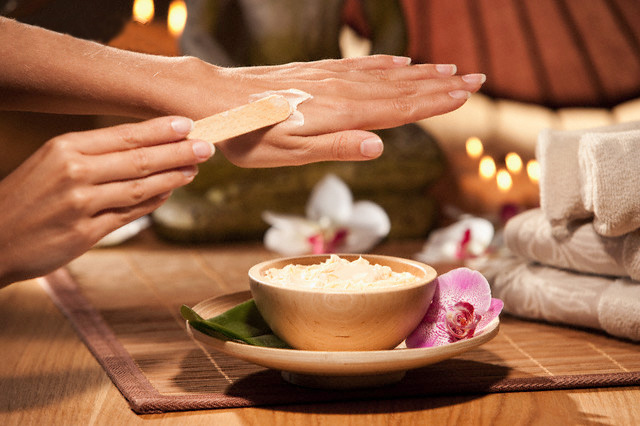 Hands, like any other part of the female body, need constant attention and care. If you regularly do moisturizing masks, preserve the youthfulness of the skin for a long time and protect it from the negative influence of environmental factors.
Unfortunately, not all women do homework in rubber gloves. After all, the skin of the hands, daily in contact with household chemicals, loses its natural protection in the form of a fat layer. Natural masks intensively nourish and moisturize the skin, and they can be prepared from products that can be found in any kitchen.
Olive oil is the basis for the most simple and quick mask for the skin of the hands. You need to take about 10 ml of oil and lightly heat it in a water bath. Mix it with 1-2 tsp. Lemon juice and circular massage movements rub the remedy into the skin. Wear cotton gloves and leave the mask overnight. However, if you do not have such an opportunity, hold the tool for at least an hour. This time is enough to moisturize the skin.
The mask of fermented milk products has not only a good nutritional, but also a bleaching effect. For cooking you need to mix cottage cheese, yogurt and egg yolk. Products can be taken in an arbitrary proportion, most importantly, that the mask had a creamy consistency. Apply the finished product to clean hands, wait about 15-20 minutes and rinse with soft water.
Warm mashed potatoes can bring back dry and weather-beaten skin. Mix it well with 1 tbsp. sour cream and apply abundantly on the hands. Wait for 25-30 minutes and rinse the mask with warm water. At the end of the procedure, apply a light moisturizer to the skin.
Zucchini has excellent moisturizing and nutritional properties. On a small grater or blender, chop ? of the young fruit, mix with 1 tsp. vegetable oil and 1 st.l. sour cream. Apply a thick layer of the skin on the hands and leave for half an hour.
Honey is a universal natural product with high moisturizing and rejuvenating properties. To prepare a mask, take 1 st.l. liquid honey, 1 tsp. vegetable oil and raw yolk of one egg. You can add a few drops of lemon juice, if the skin needs to be bleached. The mask should be kept at least 20 minutes.