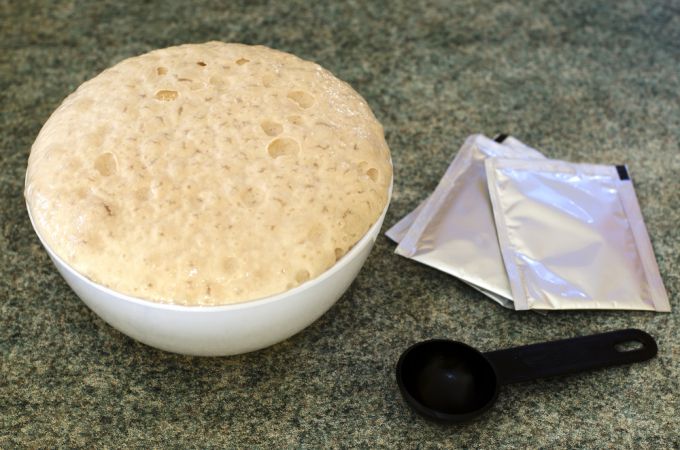 Bakery yeast is used not only in cooking, but also in home cosmetology to improve the condition of nails and hair. For hair these microorganisms are of particular value, since yeast masks accelerate their growth, restore and nourish, help in the fight against prolapse. Yeast cells are three-quarters water, which practically corresponds to the chemical composition of the human body. That's why yeast is perfectly perceived by scalp and hair. Trehalose, which is part of the microorganisms, prevents the displacement of moisture from the cells, as well as protects the hair from harmful ultraviolet radiation.
High concentration of B vitamins, which are in yeast, contribute to the normalization of metabolism in cells, they are necessary for the activation of hair growth and their regeneration. Vitamins K and E contribute to the exchange and assimilation of carbohydrates, proteins and lipids. When these vitamins are not enough, the hair loses its healthy appearance. In addition, yeast contains the necessary trace elements for the hair: zinc, copper, calcium, magnesium, potassium, phosphorus and many others.
Дрожжи считаются незаменимым средством в борьбе с выпадением волос. При регулярном использовании масок волосы становятся крепкими и густыми.
For weakened and thin hair it is recommended to use a yeast mask with milk and egg. To cook it, take 20 grams of fresh baking yeast and dilute with a small amount of warm milk, thoroughly rub it. Cover the dishes with a towel and leave in a warm place for half an hour. While the yeast will be wandering, massage your head with your fingertips. Then add one egg yolk, as well as a tablespoon of olive oil, to the bowl (castor, sunflower or burdock oil can be used). Mix the components of the mask to a uniform consistency, rub into the roots of the hair, spread the remainders throughout the length of the hair. Put on a plastic cap, wrap your head with a towel. After 50 minutes, rinse the mask with water at room temperature.
You can prepare a mask for hair not only from fresh, but also dry yeast. It is important to remember that the yeast should be fresh. You can learn from the structure and sharp characteristic smell. They are homogeneous in hardness and color, do not stick, they are finely chopped. According to the proportions of 3 a gram of pressed yeast is equivalent to 1 grams of dry yeast. The number of ingredients is designed for medium-length hair, so a shorter hairstyle will require fewer mask components.
Для получения положительного эффекта маски из дрожжей следует делать регулярно. В среднем рекомендуется провести курс из 15 масок с интервалом в 2-3 дня.
Normalize the condition of fatty hair, as well as improve their appearance, using the following mask. Dissolve in a glass bowl 20 gram of yeast with one tablespoon of warm boiled water. Leave for 30 minutes, the mixture should start wandering. Beat well in a separate bowl of egg white, mix with yeast. Prepared mask to the hair, leave it to dry. Then rinse with warm water using shampoo.
To activate hair growth, you can use a mask of yeast with mustard. Dilute 10 grams of fresh yeast with two tablespoons kefir at room temperature. Place the dishes in a warm place (for example, a battery). After half an hour yeast will start to wander, a white foam forms on the surface. Add the egg yolk to 1 and 1 tablespoon dry mustard, mix. Apply the mask to the roots of the hair, keep at least 20 minutes. If you are the owner of sensitive skin, then it will be enough to keep 15 minutes. In case of unpleasant sensations, the mask should be washed off immediately.